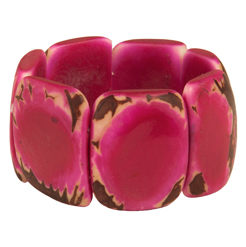 I love it when companies are fair trade and have ethical products. Especially if they are as cute as Andean Collection's products! 🙂 So when the nice people at Andean Collection sent me their Classic Tagua Bracelet in Fuchsia I was thrilled!
My thoughts:
This bracelet is SO comfortable! It looks absolutely beautiful! It's SO chic! And it's so pretty! I love the colors. The pink and brown look super pretty! And this bracelet looks great with jeans or a dress! I totally love it!
Would I buy more of Andean Collection's products? You bet! Check them out on the web at-Â theandeancollection.com/
The product for this review was provided to us free of charge for the purpose of product testing. This does not effect our opinion of the products in any way. We only write about products we personally like and use, regardless of how they were acquired.