I'm someone who loves her hair more than anything, in fact, I pamper it like it's a dying plant. I lavish it with attention, kind words,and the best hair products to help it look stunning. I just recently came across, a wonderful addition to my hair routine. A heat protectant/shine spray from Alterna.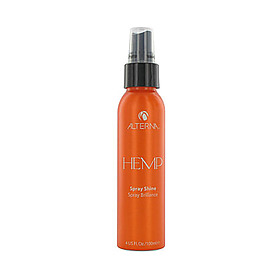 I love the consistency of this product, not too oily, or too sticky. The smell is amazing too (a big deal-breaker for me). Â The hemp seed oil nourishes and adds a bit of moisture to the hair that normally is lost while styling. This product is also a heat protectant that helps prvide a barrier between the extreme heat and your hair.
It's also a pretty excellent finishing product. For the spring hairstyles like the chop or even for swingy long straight hair, I would recommend looking into this shine spray. When hair is damaged due to heat or other styling methods, shine isn't always going to happen naturally, unless the hair follicle is cut off or it gets a break from damage. Shine is an indicator of healthy hair, and it makes me feel a bit more confident when I'm rocking, shiny straight locks!
Just apply one or two sprays down the shaft of the hair (avoid the roots), and then comb through. let it dry for about 2 minutes and then flat iron section by section. My hair felt so very soft, I nearly tangled it up again, by pawing at it so much. My hair also took longer to frizz with this product, I normally frizz after 3 hours, and I lasted 8 with this product.
Where to buy:
Alterna Hemp with Organics Spray Shine $20 Folica.com
What do you use to add shine to your hair?
xox
Andrea
This product was purchased with my own money, and my opinions are not influenced in any way by monetary compensation from this company.