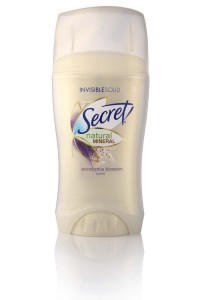 Secret recently came out with a new line of deodorant called "Natural Mineral" and let me tell you I LOVE, LOVE, LOVE it! Secret is well known for it's great scents and wonderful odor preventing deodorant, but this time they have outdone themselves! If a company makes a natural product that actually WORKS and smells great then I'm buying it! And Secret's new deodorant is no exception.
I normally use Arm and Hammers Essential Naturals deodorant and let me tell you that stuff SUCKS. (I only use it because I have allergies) I mean it works okay, but I'd rather use something that smells girly and not like a dryer sheet. You know what I mean? So when I heard that Secret had a new brand of natural deodorant I was all over it. I was sent a Eucalyptus Blossom Natural Mineral deodorant to try and I LOVE it!
Just what do I love about it? See below!
Smells gorgeous! It almost is a florally/per-fumy scent. I've NEVER smelled a better natural deodorant!
Works great!
Neutralizes odor and doesn't just mask it.
Prevents odor.
Didn't make me break out from my allergies. (that's a good thing)
Is naturally derived
Doesn't clog my skin pores
Is a reasonable price  ($4.29)
And needless to say I'll be buying it again! 🙂
My only problem with this deodorant is that if you wear a dark colored top the white deodorant shows through. Other than that this gal gives Secret's Natural Mineral deodorant a thumbs up!
For more information please visit: http://secret.com/Natural-Mineral.aspx
The product for this review was provided to us free of charge for the purpose of product testing. This does not effect our opinion of the products in any way. We only write about products we personally like and use, regardless of how they were acquired.