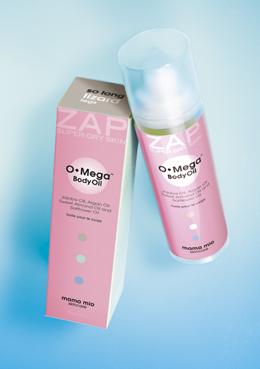 Mama Mio a brand of womens skin care products recently offered to send me a bottle of their Omega Body Oil and I accepted. I'm a skin care product addict. I have about 20 bottles of different lotion and who knows how many lip balms, body washes, shampoos, and whatnot! (I don't count em anymore!) So I know what I want in my skin care products.
When I tried Mama Mio's body oil I was pleasantly surprised that it wasn't "yet another" body oil. This body oil was different. It wasn't overly greasy and didn't leave my hands sticky as so many body oils do. And plus its really easy to apply. And it's packaged inside a bottle for quick usage. I love it! It smells absolutely wonderful and after I've used I have had quite a few people comment on how nice I smelled! (always a plus)
This body oil is 100% natural and is a magic mix of Argan, Safflower, Sweet Almond and Jojoba oils so that your skin is healthy and fit! I love this body oil and highly recommend it!
To purchase this body oil please visit: http://www.mamamio.com/us/daily-skincare/omega-body-oil.html
The product for this review was provided to us free of charge for the purpose of product testing. This does not effect our opinion of the products in any way. We only write about products we personally like and use, regardless of how they were acquired.