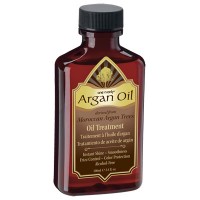 We've all heard the ruckus about Moroccan Oil, and some of the less than stellar knock offs that imitate it, but there is one product that stands up to the hype. This particular treatment is carried by Sally's Beauty Supply as an alternative to the Moroccan Oil brand. As a fan of Moroccan Oil I can attest to it's incredible softening and smoothing powers (it contains a small concentration of argan oil).This treatment by one n' only not only adds shine, softness and improves the manageability of hair, but does it for a fraction of the cost of Moroccan Oil, with nearly identical ingredients and scent.
One N' Only argan oil treatment works more like a serum in my opinion. It (like Moroccan Oil) has dimethicone, a type of silicone that coats and seals the hair and doesn't let anything (humidity, oils) penetrate the hair once added. This can be good or bad depending on how you use the product. As a general rule, I keep daily use on the light side to avoid getting the "greasy halo" atop my head. I've used it on wet and dry hair, but for my hair type, (3c , with a Brazilian Keratin Treatment ) wet hair soaks this up best. Depending on your hair type you could have better results with wet or dry. I've noticed friends with fine, straight hair, only use it after blow drying, and only on their ends. The key is experimenting with it to see what your hair likes.
Here's my method:
1. Wash (with a sulfate free shampoo)
2. Condition & rinse with cool water
3. Apply a pea sized amount to palm and work through to ends (avoiding the scalp)
After application of the treatment, I either blow dry or let it air dry and wear it curly. Either way, I love the smell and how soft it makes my hair feel. To be honest, my initial reaction to it, was less than enthusiastic, but over time my hair's condition improved noticeably. I find it to be a great dupe (duplicate) for Moroccan oil, and now use it more often than I do it's over-priced cousin. You can buy it here. You're welcome!
Do you prefer Moroccan oil to other dupes? What do you use to keep hair silky and smooth?
xox,
Andrea