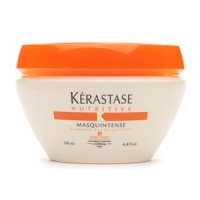 I adore this product!
At the recommendation of my upcoming "Girl Talk" subject, Lesley Ann Brandt I decided to try out the Kerastase line. They have pricey products but one stood out as totally worth the money: The Masquintense Nourishing Treatment. I can't stop touching my hair, my husband can't stop touching my hair, even my cat is getting a little bit too close. This 6.8 fl oz tub carries a $50 price tag, but the formula is super concentrated so you only need a dime size for shoulder-length hair. I've been using this for 4 days (once the day I received it, and then again two days after) and have already seen a noticeable smoothing in my hair. The strands are shiny and much, much stronger.
My method for using the  product is as follows:
1.) Wash with my usual Shampoo (Joico Silk Result Shampoo)
2.) Apply a dime sized glob on the ends of my hair and work upward.
3.) Comb it through gently, and then clip my hair up, while I shave, wash my face (yes, I'm one of those people), etc.
4.) Rinse out and apply my One n' Only Argan Oil Treatment (or Moroccan Oil)
5.) Blow dry with a round brush or my fingers.
After my blow dry with the round brush, I didn't need to straighten my hair… that never happens! The hair shaft was so smooth and shiny and my hair had much more  movement. I did a finger blow dry with my 2nd use of this product and still had shine, but my hair did get wavy in a way I hadn't ever  seen in my life. This product gets a thumbs up from me,  and I'm excited to try out their other products, especially  from their Oleo Relax line. Your welcome!
xox
Andrea
P.S.  What's your favorite hair mask? And be sure to check my Interview with Actress Lesley Ann Brandt up on Tuesday!