Pantone has declared Honeysuckle to be the IT color for Spring and in typical Fashion-Week Fashion, designers, celebrities, and even the hair and make-up departments have been going crazy finding ways to incorporate the color into their collections and looks. But for the average girl, trying to be trendy and not look like a bright colored pinata, where do we start? I personally have a darker complexion so for me subtlety is key. Below I have created a little guide to help you navigate this wild but very hot trend.
On the face:
Whether you are pale or tan , you can absolutely wear this color as a blush. Try Fusion of Color's Honeysuckle Blush on the cheekbones for a nice flush that rivals Nars "Orgasm". The look you're going for is softly flushed, not rosacea so don't overdo it. You can also add the color to the lips, darker skin tones may wish to choose either the blush or the lip, since the color may come across washed out on darker skin. Take a cue from this look below: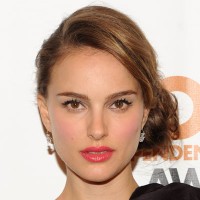 See how Natalie pairs a soft brush of honeysuckle, and bold honeysuckle color on the lip. This combination make's her look womanly but not overly harsh.
Clothes:
This is a tough one, the coral color can be flattering depending on the design and the skin tone of the person wearing it.
Above the color is incorporated with other colors like gray and rose, in a cami. I like this look for someone who is unsure and doesn't want to just dive right into the trend. You can pair it with a neutral cardigan and jeans or even wear it alone once Spring gets a bit warmer. This cute top has ruffle detailing which is also pretty hot for spring.
However you choose to wear this color, remember that it must compliment your tone. Honeysuckle was paired differently by many designers this season to compliment their models and best show off the color. Oh, and just to squash the negative assumption that redheads have to forgo this trend, I give you Julianne Moore looking lovely in her honeysuckle below: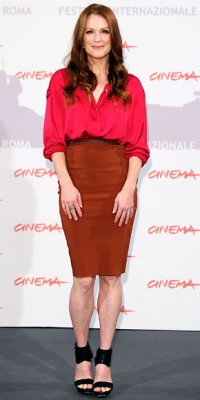 Enjoy this trend ladies and I hope you find more uses for it as spring gets closer and closer. You're welcome!
xox,
Andrea