Diamond Girl Media's latest addition to "Shop for a Cause"
Namaste Bracelets
Spring 2011…Diamond Girl Media has officially launched it's shopping site. At shop.diamondgirlmediala.com you'll find some of our clients products that may be exclusive to the season, offer special deals as well as companies we collaborate or work with at certain times throughout the year.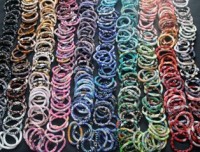 Since Diamond Girl is a big advocate for all things green and a serious devotee to animal rescues, the site will feature a variety of "giving back items" year round. These items, jewelry, clothing or other, will donate a portion of each sale to charity. Anytime an OM DAWG tank is purchased on our website 30% of the proceeds will be donated to a local rescue. Socheec will also donate a portion of each sale made through Diamond Girl to the National Breast Cancer Foundation at any time of the year. Every little bit counts!
The latest addition: These beautiful, handcrafted Namaste, glass bead bracelets are now part of "Diamond Girl's "shop for a cause." The bracelets are hand crocheted by the village women in Nepal and a percentage of the proceeds go toward improving their lives and their families. The bracelets are part of fair trade and no two bracelets are alike.
These colorful bracelets make the perfect gift for anyone. They're also look great when layered several at a time.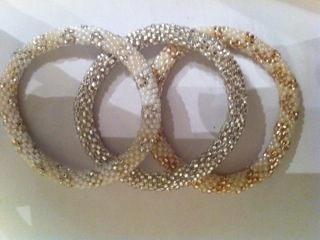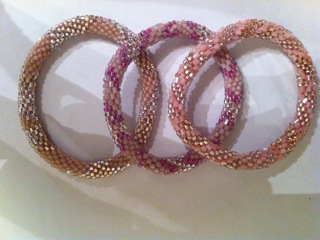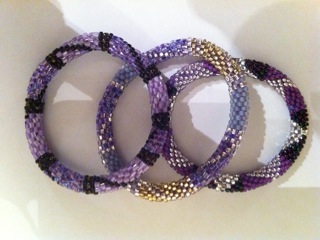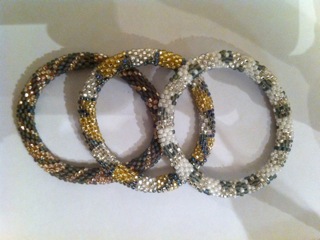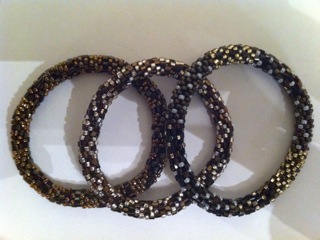 $15 each, or $12 each for two, and $10 each for three

Choose from over 100 styles or mix and match multiple bracelets.