NIVEA is excited to share top tips for a beautifully romantic Valentine's Day from their Romance Ambassadors Bill and Giuliana Rancic! Kicking off their partnership as hosts of the NIVEA Kiss Platform in Times Square on New Year's Eve, the NIVEA Romance Ambassadors and famously long-distance couple are putting their twist on the most romantic day of the year. As Giuliana explains, "As the brand that stands for touchable, smooth skin and kissable lips, NIVEA products are the perfect way to be 'Ready for Romance' all year long."
1. Start With A Kiss- Whether you see each other every day or spend a lot of time apart, greet your sweetie with a passionate smooch every time he or she walks through the door. *NIVEA Kiss of Smoothness *Lip Care will keep your lips soft and moisturized so you're ready for all those surprise kisses!

NIVEA? Kiss of Smoothness*SRP: $2.49 for 0.17oz tube
2. Sweeten Your Greetings- A homemade Valentine created from the heart lets your partner know you really love them! Get out the scissors, red construction paper, white paper doilies—the works! Your own little verse adds just the right touch and this out-of-the-ordinary greeting is a sweet alternative to store-bought cards.
3. Pamper Your Partner- Give them a mini in-home spa treatment…it's sweet, sexy and also saves money! Get as elaborate as you want with a mani-pedi, facial or a massage with a long-lasting moisturizing lotion such as *NIVEA Smooth Sensation with Hydra IQ* technology. Your partner will stay moisturized from head to toe for a full 24 hours, and just a little pampering will go a long way!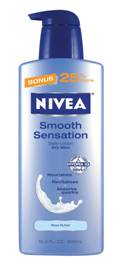 *NIVEA? Smooth Sensation with HYDRA IQ*–SRP: $5.99 for 8.4oz, $7.49 for 13.5oz
4. Share Your Sentiments- Make a list of the "Top 10 Things I Love" about your other half. Maybe it's the way he laughs at your corny jokes, or the way her eyes light up when you offer to do the dishes. Type it out, print it up and frame it so your partner can read it to remind them of your love all year long.
5. Give Your Date Night Some Extra Effort- Go on a "dream vacation" together without breaking the bank. If you've always wanted to travel to Asia, then go all out on an Asian-themed night with great take-out food and mood lighting. Even if you're just grabbing a bite after work, get ready for Valentine's night with a body wash that makes your skin smell great and feel extra-moisturized, such as *NIVEA Touch of Smoothness Body Wash*. It's the perfect thing to put on before you slip into that sleek suit or special dress.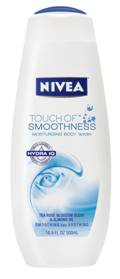 NIVEA Touch of Smoothness*–SRP: $5.99 for 16.9oz
All of NIVEA products are available on Amazon.com