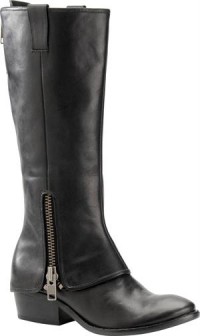 The Korkease Kayla
boots are made of supple, genuine leather and have a chic, motorcycle-inspired edge.
They have a comfortable 2″ heel so they are ideal for wearing all day, every day. They have a nicely padded insole with a small instep for support. My feet are a little wide and these do not squish my feet. They are stiff out of the box, but break in easily and the leather quickly molds to your feet. They are surprisingly light weight considering how heavy duty they are!!!
Okay, so they are a little pricey, but they have a classic look that won't go out of style. You'll definitely have these boots for the rest of your life. They will never wear out or break down. I really think they would be IDEAL for horse riding and motorcycle riding because they have a firm sole. These are heavy duty women's boots!!
The boots come in three gorgeous colors: black
, natural
and brown
. I like them in black best. These boots are totally awesome!
Price: $264 – $295
Purchase: Shoeline.com
and Supershoes.com