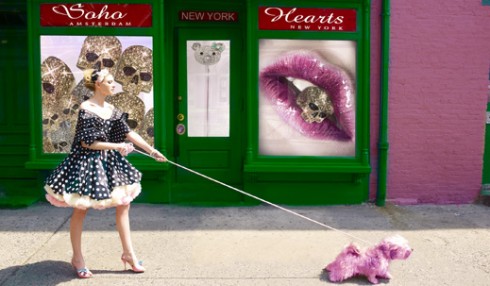 Back in October of last year, SOHO Hearts was a generous sponsor of our fundraiser, Fashionable Gals for a Cure.  Now, they're offering a great giveaway for one lucky reader!
Soho Hearts was created by Juliette Booker, a native of Amsterdam.  With her eye for style and glamour, she created a beautiful line of jewelry that is now available worldwide.  "The collection conveys not only Juliette's gifted eye for bold and subtle statements through the artistry of fine craftsmanship. It also serves as a very personal example of the heart and soul that nourishes her passion."
I like the wide range of styles available from Soho Hearts.  The line includes everything from skulls to flowers, delicate charms to huge statement pieces.  There's such a variety that it's likely just about every fashionista will find an accessory that works for them.  Soho Hearts also sells headbands, scarves, key chains, and other accessories that will help add style and flair to other areas of your life.
The piece I received for review is the Crystal Bow Necklace in Marine Blue (also available in a gorgeous Purple).  Even though I fell in love with it online, the necklace is even more stunning in person.  The beautiful beads, which are in a range of colors and sizes, catch the light and everyone's eye.  The fabric covered beads are equally stunning, and the thick ribbon is a beautiful touch.  While this piece is a little heavy for Summer, it pairs well with flirty summer dresses for a night out on the town.  Mainly, I'm looking forward to wearing it this fall or for fancy dinners and cocktail parties.
I love the quality of this piece, and the affordability of many Soho Hearts pieces.  There are many more on my wish list, and I hope to check out their NYC boutique when I visit later this Summer!
CONTEST INFO:  One lucky lady will win the Crystal Bow Necklace pictured above, in their choice of Marine Blue or Purple.  The contest will run from now until July 20th, 2010, 11:59 PM EST.  You MUST complete the Mandatory Entry for any extras to be counted; please leave a separate comment for each extra entry.
MANDATORY ENTRY:Â  Subscribe to Soho Heart's e-newsletter (bottom right corner).
EXTRA ENTRIES:
Fan Soho Hearts on Facebook – 1 Entry
Fan The Fashionable Gal on Facebook – 1 Entry
Follow @FashionableGal on Twitter – 1 Entry
Blog this Giveaway – 3 Entries
Share anywhere not listed (i.e. Digg, Stumble) – 1 Entry per Location
Tweet using the text below (max 2 tweets/day, min 2 hours apart) – 1 Entry per Tweet
Win a Crystal Bow Necklace from Soho Hearts & @fashionablegal (valued at $59.95) and spice up your summer look!  http://wp.me/pbj1u-20r