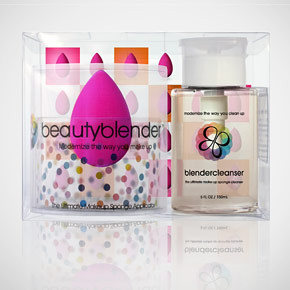 Beautify Your Body with Beautyblenderâ"¢ This Summer
"Tired of beach season sneaking up before you have time to get your body beach-ready?  This summer, turn to Rea Ann Silva, Celebrity Makeup Artist and Creator of the Beautyblenderâ"¢ for some fabulous tips on how to fake perfection when the heat rises…
* For a summer-time glow, mix your foundation with a highlighting cream (try a light golden-bronze shade), dampen the Beautyblender™ and blend over areas of the face, such as the top of your nose, cheek bones and the under eye area.  You can also apply this mixture to your shoulders and collar bone. The outcome – glowing goddess!
* For a flawless self-tanning application, exfoliate, lightly moisturize and apply self-tanner on your body using your hands. Dampen a Beautyblenderâ"¢ with water and bounce it on the areas that are hard to apply evenly, such as bikini lines, elbows and under breasts, to ensure that you blend equally – leaving you without any streaks or blotchy areas. The result – a mess free, golden tan!
Beautyblenderâ"¢ comes with Blendercleanserâ"¢, an environmentally friendly cleansing solution.  With proper cleansing, this ultimate makeup tool can last for several months.  So you can toss away your disposable makeup sponges for good. With Beautyblenderâ"¢ you can achieve gorgeous looks everyday while minimizing waste."
The article above was written by celebrity makeup artist Rea Ann Silva.  Silva has used Beautyblender on celebrities such as Taylor Swift, Gwen Stefani, Tyra Banks, and many more.  After hearing all the uses for the tool, I had to try it for myself – so the generous people at Beautyblender sent me the set pictured above, which contains the sponge and the cleanser.
At first, I thought Beautyblender would work like any ordinary makeup sponge.  I use cream foundations, so I've become quite familiar with cosmetic sponges.  They work fine, but aren't my favorite thing in the world.  Beautyblender, on the other hand, totally is.
The unique egg shape makes it perfect for applying makeup around my eyes and the corners of my nose.  Brushes and blunt edged sponges aren't made to work on those areas, so they don't.  Beautyblender gives me flawless coverage all over my face, plus makes my foundation look more natural and seamless.
I have used my Beautyblender with liquid foundations, and it works just as well with them.  However, I have two favorites to pair it with.  The first is Urban Decay's Surreal Skin Cream-to-Powder Foundation
.  It's a miracle foundation, but the brush it comes with makes a mess around my nostrils and the eye socket area.  Another favorite to use Beautyblender with is CoverGirl's True Match Roll on Foundation.  The formula is creamy and works well to cover imperfections, but the roller brush is extremely impractical.  Beautyblender fixes that – I still get the benefit of the foundation, but not the awkward application demanded by the roller.  True Match Roll On is available through drugstore.com
You can purchase beautyblender
online from Sephora.