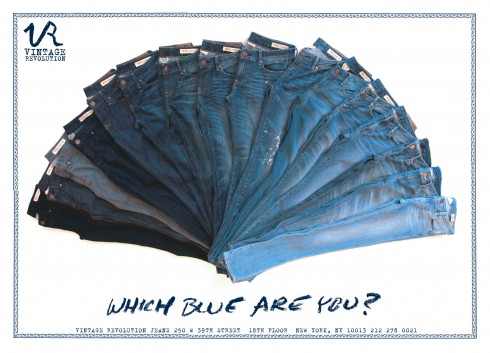 New York, NY — A new denim brand has launched to revolutionize the premium market. Vintage Revolution (VR) jeans for men and women will land in over 400 major department and specialty stores for Fall 2010, including Bloomingdale's, Fred Segal, Lisa Kline, E Street Denim and National Jean Company and more, at a retail price range of $118-$148.
VR was founded by Jose JuanMarcos, a third generation owner of one of the largest and most technologically advanced premium denim factories in North America. In January 2010, JuanMarcos hired Michael Press as brand president to bring the line to market.  Press was most recently the president of Earnest Sewn and prior to that held VP positions with Paige Premium Denim and Koos Manufacturing, creators of AG Jeans and Big Star. Press was also an integral part of bringing Diesel and Replay to the US market.
Press explains, "We are a breath of fresh air in the denim market, a true denim brand with classic fits and a broad range of indigo washes, not just dark and skinny. We have repeatedly heard from buyers that our line has the best palette of washes they've seen in a long time. Our jeans are crafted by a 40 year-old denim powerhouse in North America, so we are returning to denim's 'true blue' roots while also incorporating new techniques and sustainable factory practices."
As a factory owned brand, VR offers a unique benefit to both retailers and consumers by bringing a superior premium denim product to the market at a price that the majority of other denim brands can't match. Thomas George, buyer for E Street Denim in Chicago says, "VR starts the move toward denim heritage – simple, straight forward, and easy to buy for both the store and the consumer." With Press's invaluable industry relationships and his team of seasoned staff, the line is poised to undoubtedly become the next "it" denim brand, paving the way for a zeitgeist in denim and cementing the new sweet spot – the nexus of quality, styling and price-point in the premium market.
VR draws inspiration from the definition of its name – a celebration of timeless style coupled with a spirit of rebellion that is reflected in each piece they create. VR rebels against assembly line jeans and the inflated ideas about premium denim that exploded over the past decade. The VR customer wants to throw on their favorite pair of jeans and wear them without thinking, because they're busy living their lives.
Vintage Revolution is based in New York City at 250 West 39th Street, Suite 1800 in the heart of the fashion district.
For more information, visit them online and VR's Facebook Page.