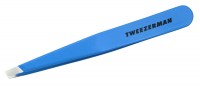 "For many women, tweezing eyebrow hairs is just part of the daily routine. But according to Dr. Neal Schultz, NYC dermatologist and founder of DermTV.com, tweezing incorrectly can actually cause premature lines and wrinkles!!
Repetitive stretching of your skin can harm collagen and elastic fibers, which promotes lines and wrinkles, states leading cosmetic dermatologist, Dr. Schultz. This is especially true in very delicate skin, such as that adjacent to the eyebrows. 'So to avoid creating premature lines and wrinkles while tweezing, instead of pulling the skin all the way in the opposite direction from "the pluck", hold the skin firmly with your fingers very close to both sides of the unwanted hair to minimize stretching the skin and thereby decrease the chance of damage.'
Interested in hearing the pro's top choice for at-home plucking? Tweezerman's new Blue Jewel Slant Tweezer, a tantalizing, turquoise color for 2010.  Why does it work? Slant Tweezer features a hand-filed tip that is perfectly aligned to grab every hair, every time with the smoothest, true precision.'"
The new Blue Jewel Slant Tweezers are available online for a retail price of $20.
I'd never considered tweezing as a risk to my skin, much less a practice that could cause wrinkles! I'll be taking this advice and incorporating it into my tweezing technique and I hope you ladies will, too.