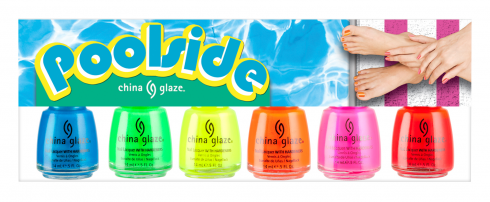 Earlier this week I received something that brightened my day…  Quite literally!  Meet China Glaze's Poolside Collection, just in time for the summer of 2010.  It six fabulous neon shades in jaw dropping colors.  I promptly splashed a coat on my nails and have been staring at them ever since.
Towel Boy Toy, Kiwi Coolada, Yellow Polka Dot, Flip Flop Fantasy, Pool Party (somehow I missed Sun Worshiper!)
These have a semi-matte finish…  Not completely flat, but not glossy, either.  The best way I can really describe these colors and the finish is that they're like highlighters.  It's hard to photograph neons, so the actual colors are much brighter than in the picture above.
For me, Towel Boy Toy and Pool Party applied the easiest, with only three coats necessary for even coverage.  Yellow Polka Dot just didn't work for me, and I couldn't get it to look less streaky.  Patience and a few more coats may have taken care of that problem.  I found them to be great polishes to dress up, and add to – as you can see, I went with some polka dots.