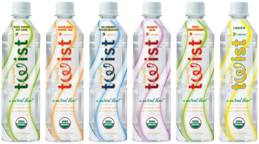 "It's common knowledge that drinking water is important for overall well-being.   Aside from enhanced health and increased energy, did you know that water helps you to achieve a radiant, healthy and younger looking complexion?
With these benefits in mind, consuming the recommended eight glasses a day still seems daunting to the non-water drinkers out there.
Thankfully twist organic waters provides a delicious and nutritious solution.  Made with pure juices, fruit essences and agave nectar, twist organic waters are great alternatives to flavorless water, making it easy and enjoyable to get your necessary daily water intake.
twist is USDA-certified organic, low-calorie (less than 10 per serving!), non-carbonated, preservative-free, all-natural premium water available in a medley of six delicious fruit flavors sure to please the palates of  all.
·                 Lemon – An energizing, cleansing spin on the classic, it leaves you with a happy mouth
·                 Mandarin White Tea – A pleasant, slightly sweet brew of soft mandarin orange and mellow white tea
·                 Mango Acai – An exclusive blend of flavors culled from the most remote, pristine farms on earth provides an invigorating hydrating experience
·                 Pomegranate Blueberry – Fruity and berry, this subtle essence melds the tartness of pomegranate with the sweetness of blueberry
·                 West Indies Lime – Filled with the slightly tart, crisp hint of lime, it's fresh, tasty and cool
·                 Wild Strawberry – A fresh blend of strawberries with a burst of zesty flavor
The perfect addition to your beauty routine…DRINK UP!"
I received two bottles of twist organic water, in the lemon and lime flavors.  I know flavored water has become more and more popular over the past few years, and now there's a huge range of beverages available.  I love that twist is an organic version, so you can feel good about not consuming various chemicals in order to get a "real" fruit taste.  Honestly, I don't really do flavored water – I like my water to taste like…  well, nothing.  However, if a bit of flavor helps you consume water, I'm all for it – and recommend that twist be your choice!  Bottles retail for $1.49/19 0z and are available online.