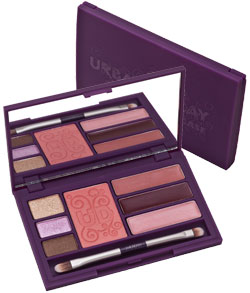 "This case is small but mighty. It has a miniature price (less than a round of Starbucks), but it gives you a BIG selection of beauty products. You get 3 best-selling Eye shadows (Grifter, Midnight Cowboy Rides Again and Twice Baked), a generous pan of blush in NEW SHADE Hookup, and 3 sexy XXX Shine Lip Glosses: Carney, Naked and Love Junkie – Wow!
Lots of shades mean lots of looks. Apply your neutral shades for your business meeting, then add a pop of brightly colored eyes or lips for your last minute dinner plans.
The dark purple mirrored compact is coated with a soft touch finish for a luxurious, sueded feel, while the compact size measures barely bigger than your cell phone. Imagine how many pieces of full size makeup you can leave behind! With the addition of a double-ended mini brush, any multi-tasking girl can sneak this compact it into her bag and rush out of the house at a moment's notice."
I am experiencing a sense of overwhelming lust when contemplating this newest Urban Decay edition.  I mean…  three shadows, three glosses, and blush for under $20?  Is this some sort of a prank?  Because if it is, I'm going to be totally furious.
In case Urban Decay changes their mind and realizes this is too fabulous – you might just want to grab yours now.