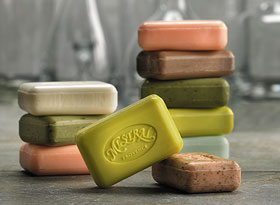 Mistral produces the finest French soaps which are crafted according to a time-honored French soap tradition. Scented with the highest quality, original fragrances, Mistral Triple Milled Shea Butter soaps are guaranteed to delight your senses.
Handcrafted in Provence, France, the soaps are made according to a three hundred-year-old tradition of purity and excellence.  Because they're triple milled, they last three to four times longer than ordinary commercial soaps.  Ingredients include the finest oils of olive, palm or coconut, combined with skin-softening pure African shea butter known for its protective and rejuvenating qualities.
The unique and original combinations of scents are selected from Grasse's most renowned perfumers.  Mistral continually scours the blossoming hillsides of Southern France in search of new scents for the soaps.
Mistral makes over THIRTY scents of bar soap, including scents like black Tea Mandarin, Grapefruit Red Currant, Imperial Jasmine, and Vanilla Apricot.  There are exfoliating blends (like the Vanilla Apricot) and moisturizing formulas, so they're great for all types of skin and shower needs.  7 ounce bars retail for $8 and "petite" 1.59 oz bars are $3.50.
Mistral sent me several of their bar soaps in exchange for a shout out about their products.  I don't personally use bar soap, but my friends have been eagerly lining up to nab a bar.  Everyone's been quite pleased with the soap, and I loved how they smelled as I was forking them over.  I have a huge dust problem in my bathroom, so keeping bar soap in there isn't realistic – plus I don't have anywhere to put them!
I know that lots of people love to use bar soap, especially when they have a guest bathroom and many visitors.  Beautiful bars of heavenly scented soap are perfect for moms, aunts, and grandmothers for Mother's Day or upcoming birthdays!
Mistral also has a Build Your Own Basket/Gift Box option.  You can read all about it here.