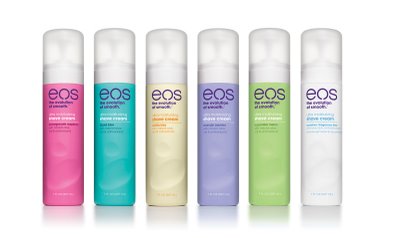 "eos, the innovative personal care brand, has reinvented the modern woman's shaving experience with their ultra moisturizing shave cream collection.  The first shave cream that truly reflects a woman's sensibility by raising the bar for efficacy and design, eos ultra moisturizing shave cream is available in five difference scents – cucumber melon, lavender jasmine, pomegranate raspberry and vanilla bliss – and sensitive, which is fragrance-free, dermatologist tested and hypoallergenic.  All the shave creams are intensely hydrating, allowing women to shave wet or dry.  The non-foaming cream formula is paraben-free and contains only the best ingredients to ensure a closer shave that will leave skin silky and smooth throughout the day."
POINTS OF DIFFERENCE
~Easy to use pump for 100% propellant-free dispensing
~Non-foaming cream formula shaves closer, boosts skin's moisture level and leaves skin soft and smooth
~Paraben-free formula
~So moisturizing, you can shave wet or dry
~Soft touch, ergonomic plastic bottle is easy to hold and won't leave a rust ring in your tub
~Bottle is made from 25% post-consumer recycled materials and is recyclable itself
KEY INGREDIENTS
Aloe:Â  soothes, moisturizes, and heals
Oat:Â  protects delicate, dry, sensitive and irritated skin
Shea Butter:Â  Softens and nourishes
Vitamin E & C:Â  Rejuvenating antioxidants for healthy looking skin
___
I've been wanting to try eos shave cream since it was first released, but after having a Costco sized supply of shave cream, I've never gotten around to it.  Or at least, I hadn't, until I received a tube of the Cucumber Melon scent to review.  I immediately fell in love with the packaging, which has a convenient grip and a great texture that keeps it from getting slipper in the shower – or leaving rust/stains, as mentioned above.  Metal shaving cream canisters in the shower drive me crazy and get gross, which makes them much less enjoyable to use.
Of course, it's the actual formula that has completely won me over.  Normally, shaving cream foams up when sprayed from the can – which makes it way more like shaving foam.  eos's formula is actually a cream; a silky, smooth, luxurious cream.  It goes on more like lotion and sinks into skin, leaving it hydrated and ready to shave.  Giving it a few minutes to work before shaving makes the experience even more enjoyable, and leaves me with silky legs that don't flake or sting when I get out of the shower.
When I run out of my Cucumber Melon eos shave cream, I will definitely be stocking up on the other scents.  I'm most interested in trying Pomegranate Raspberry, but Vanilla Bliss is a close second – it sounds like something I might want to eat!  I'm totally converted to eos Ultra Moisturizing Shave Cream, and will be recommending it to all my friends.  At $3.49 a pop, this is a totally affordable way to make shaving a more enjoyable (and less painful) experience!  Retailers include Wal-Mart, Target, Walgreens, and Daune Reed – and of course, you can also purchase online
.