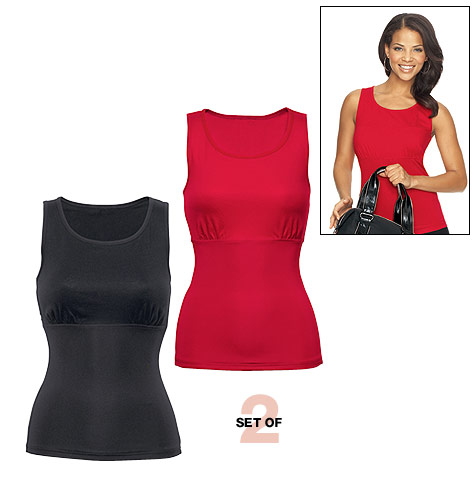 Y'all know how much I love shape wear and slimming clothing.  I love it even more when it's stylish and attractive.  Avon's Slimming Tanks fit the bill – AND are much cheaper than the competition!
I was sent their Slimming Tank for review, and have been just about wearing them out since then.  The "slimming" feature isn't overly intense, but provide a nice bit of tummy tucking.  If you're not close to having a flat stomach to begin with, they're not going to suck you in enough to be flattering on their own.  I've been pairing mine with cardigans on chilly nights and flowy tops, buttoned part way, on warmer days.
"Exclusively at Avon. Get the skinny on slim wear, and change your shape without changing your lifestyle! We've combined cutting-edge fashions with the latest fabric innovations to create a revolutionary line of figure-enhancing clothing. The result…a slimmer more stylish you, instantly. Set of two sleeveless cotton tops with polyester/spandex panel to slim tummy. Red and Black. Machine wash and dry. Imported."
The tops are available in Small – 2x.  Two for $29.99 is an amazing price, as a lot of shape wear pieces are at least that much on their own.  Now I just wish Avon would add more colors!  I'd love yellow, pink, or blue in particular – pretty summer colors!