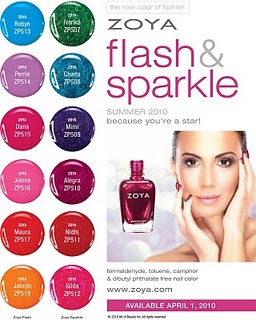 Flash & Sparkle – Because you're a star!
Zoya Nail Polish presents six new creams and six new metallics for summer 2010.
I cannot wait for this collection to launch (April 1, 2010)!!!  I love metallic polishes, so I'm particularly excited for "Sparkle"…  But who can deny the gorgeous shades in "Flash"?
Below are the official color descriptions for each of these 12 new shades.  I'm particularly fond of Robyn, Jancyn, Ivanka, and Charla – what are your faves?
Zoya Flash Collection
Robyn (ZP513) – perfect turquoise cream
Perrie (ZP514) – soft lavender cream
Dana (ZP515) – american rose cream
Jolene (ZP516) – summer pink cream
Maura (ZP517) – electric crimson cream
Jancyn (ZP518) – soft tangerine cream
Zoya Sparkle Collection
Ivanka (ZP507) – mermaid green sparkling metallic
Charla (ZP508) – tropical blue sparkling metallic
Mimi (ZP509) – royal purple sparkling metallic
Alegra (ZP510) – fuchsia pink sparkling metallic
Nidhi (ZP511) – rich red sparkling metallic
Gilda (ZP512) – fashion pink sparkling metallic