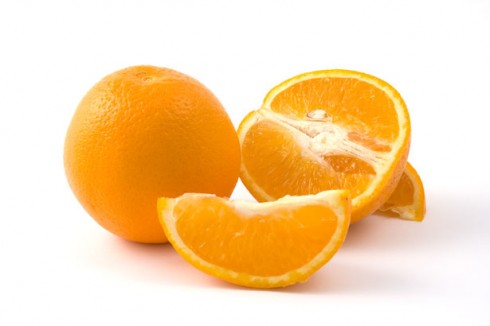 This spring's hottest new hues come straight from the runways.  Shades of juicy ORANGE were embraced by make up artists on models' eyes, cheeks and lips during spring 2010 fashion week's biggest shows.
I know that orange makeup can be shocking for some, and labeled as a trend that's hard to pull off.  An onslaught of orange cosmetics from top names in the beauty industry have ensured that there are shades for everyone – ranging from soft colors to bright traffic cone hues…  So whether you want to dip a toe in or go all out, this is a trend you can partake in!
Lipstick
Personally, I love orange lipstick – the brighter the better!  I first fell in love with it when working for Estee Lauder…  When evening shifts were dragging by, I liked to experiment with the craziest colors and products on our counter.  While most of them were definitely forays into fashion "don'ts" I found out that I really did love rockin' the orange!
For those of you who aren't quite ready to take the plunge, try soft shades of coral, and orange tones that have a strong pink or red influence.  MAC's Colour Me Coral or Yves Saint Laurent's #13 Peach Passion are both examples of softer, easier to wear orange tones.  For darker skin tones, I recommend bronze-y shades, such as NARS Outsider.
Remember, you can always blot your lipstick for a lower impact hue, or mix a little color with a coat of gloss.
(Left – Right, Top – Bottom)
NARS Outsider
Urban Decay Indecent
Yves Saint Laurent 13 Peach Passion
Givenchy Rouge Fruity Orange
MAKE UP FOR EVER Fluorescent Orange 201
Guerlain Mango Fizz 942
Eyes
As you can see, I've featured a few shades that lean towards the bronze and gold families a tad more than orange.  These are safe ways to start dipping into the trend without plunging all the way.
There are lots of finishes to consider when playing with orange eye shadow.  Matte textures will create a stronger look, while metallics are great for night time.  Shades like those in the Pop Beauty palette are great for work, and you can stash the palette in your purse, then revamp your look with darker colors before you go out at night.
Also, contemplate trying a smokey eye using this color palette.  The traditional black base can be a bit much for Spring and Summer, but these colors will be just right!
(L – R, T – B)
I chose to include shades that are more wearable for daily life.  There are some wildly bright orange shadows available from MAC, Urban Decay
, and Make Up For Ever
that you can check out too.
Pop Beauty Lid Bronzer
Illamasqua Liquid Metal Enrapture
Smashbox Torch
NARS Mediteranee
Stila Mimosa
Cheeks
I love peach cheeks!  They're such a fun break from the traditional pink, and look great with summer complexions.  These shades will pop against a healthy tan.  There are shades to flatter any complexion, and with varying degrees of pink.  MAC's Ripe Peach is my favorite – I believe it's sold out online, so you'll want to look for this at your nearest MAC counter!
If you're hesitant about orange blush, tarte's eco-cheek (bottom center) is a great way to go.  The easily blendable formulation really allows you to customize your level of color and make sure that your makeup doesn't look like, well, makeup.
(L – R, T – B)
Illamasqua Excite
NARS Deep Throat
Urban Decay Score
Tarte Eco-Cheek
Benefit CORALista
NAILS
Here's where you can really go wild!  Even if you're ultra conservative with your makeup, there's no reason you can rock nail polish in every shade of the rainbow!  Of course, we're talking about orange – but there's a veritable rainbow of that one shade, too!  The top row below features polishes with a stronger pink influence, which is a tad more grapefruit than orange – but still delicious!