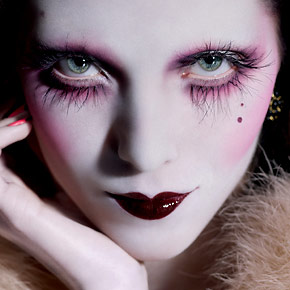 "Since its launch in the UK, Illamasqua has caught fire with beauty aficionados thanks to its unique night-time make-up concept and extraordinary color range – and has now become the hottest, most buzzed-about brand in the industray.  Thousands of professional makeup artists, club kids, beauty junkies, industry insiders, and even cutting edge celebrities like Seinna Miller, Lily Allen, Adele, Beth Ditto and Karen O. are clamoring for the newest, best and latest colors and textures from Illamasqua."
After its rave reviews in the UK, Illamasqua decided to bring its top 200 best-selling products to the United States, which are being sold through Sephora.  This range will include "40 different eye shadow shades, 22 high-performance nail varnishes, color-intense lipsticks, lip glosses, lashes and much more, creating a kaleidoscopic, pigment rich palette sure to seduce with its heady mix of color, creativity, and limitless imagination."
Earlier this month, Illamasqua sent me several fabulous products to check out.  Read on for my thoughts!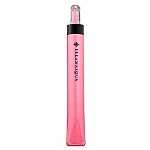 The product I was immediately drawn to, of course, was the crazy hot pink lip gloss.  More specifically, Illamasqua Intense Lip Gloss in Petulant.  This is not Barbie's lip gloss.  This isn't happy, sweet, family-friendly pink.  Illamasqua has found pink's dark side, and manage to capture it in a tube of the brightest, glossiest, sexiest lip gloss you'll ever find.  The texture is fabulous, slippery comfortable without being overly sticky or drying. This neon gloss can be worn on its own, but does play nice with others – it layers fabulously with other glosses or lipsticks.

Illamasqua has Intense Lip Glosses, and then they have Sheer Lip Glosses.  Because, you know, we all have days where we want to be the center of attention, and days when we want to look hot while quietly going about our business.  Those are the Sheer days.  Like Illamasqua Sheer Lip Gloss in Provoke – the shade I got to check out.  The color swatch above doesn't do the color any justice; it's a much warmer, caramel-y rose shade that's great for warm skin tones!

Illamasqua's awesome lip products don't stop at gloss.  They have multiple shades of out-of-this-world lipstick, including dark purple and sparkly silver (which I'm in love with).  I received Illamasqua Lipstick in Liar, a gorgeous "petal pink" with a shimmery, sparkly finish.  The formula is very rich and thick, so one coat provides a healthy dose of color.  It pairs fabulously with Illamasqua (or, gasp!, other brand lip gloss), but the shimmery finish is so pretty on its own that there's no need for any other product!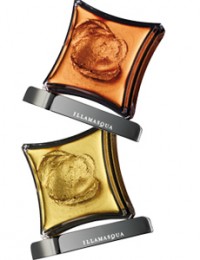 Now as enamored as I am with Illmasqua's lip products, the rest of the line can't be forgotten!  The last product I got to check out was Illamasqua Liquid Metal, which are creamy, heavily pigmented "color creams" that can be used on eyes, face, and body.  Since I'm not going to be featured in an abstract photo shoot any time soon, I've been using mine (the gold shade, called "Solstice") as a way to glam up my nighttime eye makeup.  A little goes a long way, and provides a great base for a gold toned smokey eye.  Using these under other products gives a real pop of color, but their gorgeous on their own, too!  Bronze ("Enrapture") and Silver ("Phenomena") are also available, and equally eye catching.
Whether you're looking for a way to spice up your date night look, getting creative for an event, or doing makeup for a play, Illamasqua is perfect for you.  And for those of us who like to live a little wild, Illamasqua has our bases – or in this case, our faces – covered for the day to day beauty that gets us all those envious looks.