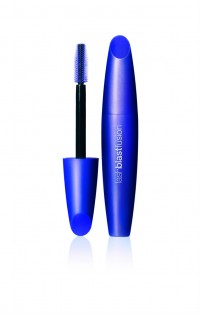 Recently, I brought you the news that CoverGirl has released a new mascara called LashBlast Fusion.  I love me some CoverGirl mascara, so when I was offered the chance to try this new formulation, you know I was all over it!
I know some people have complaints about the thick brush, but personally, I'm a fan.  I find that CoverGirl mascara does a great job bringing out all the tiny lashes in the corners of my eyes, which really give my eyes some extra pop!
You can read all about the benefits in my original posting; I don't want to bore you going through the details twice!  Basically, it delivers up to twice the volume and lash length, is smudge & rub proof, and contains "lash stretching fibers and lash plumping particles."
As I said, I'm a big fan of CoverGirl mascara.  I enjoyed using this mascara, but I'm not sure if I saw a significant difference in the length and volume of my lashes (as opposed to other CoverGirl mascaras).  This may be due to the fact that the mascara I received to review was "Black Brown" and I normally use Black mascara, which makes lashes more obvious.
LashBlast Fusion is available in four colors:  Very Black, Black, Black Brown, and Brown.  The suggested retail price is $8.99 and it will be available nationwide beginning in April.  Until then, you can pre-order it online using the link below!
Pre-order CoverGirl Lashblast Fusion Mascara from Drugstore.com!