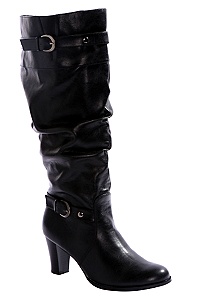 For plus size ladies, there are a lot of fashion challenges.  Figuring out how to interpret runway trends, which are presented on stick thin models, into a style which actually flatters a curvy figure?  That can be a nightmare, or at least an intense challenge.
One of the biggest fashion challenges every year I face is actually not a clothing issue – it's footwear.  Finding boots that fit wide calves is an epic challenge, and one that has two parts:  not only do they need to fit, but they need to be cute and stylish too!  Often, the I can only find boots that fit into one of these categories, which is a major disappointment.
After much searching, I found the solution at a store that was already a favorite for reasonably priced fashion fixes:  Torrid.  I have two pairs of boots from Torrid – one I bought, and one I received for review.  The result?  Pure, unadulterated love.  They're perfect.
Torrid's wide-calf boots fit both of my musts:  they're incredibly stylish, and they fit like a dream.  And did I mention they're also super comfortable?  Now Torrid's just showing off!
Below are some of my favorite pairs from Torrid's current stock.  Unfortunately, neither pair that I own is currently available…  However, now I'm drooling over several new pairs!
(Right – Left, Top – Bottom)
Rust Britney Distressed Boot

Ivory Bazaar Western Boot


Taupe Faux Suede Connie Boot


Black Faux Suede Monica Wedge Boot


Black Pebble Tina Slouch Boot


Black Patent Janet Short Boot
Just look at the creamy ivory, the caramel, the rich taupe…  The pointy toes, the high heels, the comfortable calves!  There are many more styles, as the six above are just my current faves – I'm thrilled with the variety, and of course, the price!  The entire selection ranges from $49 – $62, which is significantly less than most of the season's hot boots.  It just keeps getting better, right?
So, ladies, stop worrying about the size of your calves, and start trying to decide which pair to buy first.  I find the boots fit very true to size, and since the calf circumference is listed on the site, you don't have to worry about shopping online.