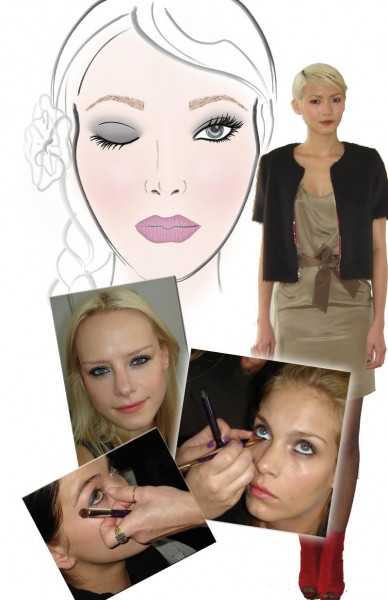 Susan Woo Fall 2010 Look
Lead Makeup Artist: Tina Turnbow
Overall Look : Effortless beauty-A fresh, slightly-dewy complexion with kohl-rimmed eyes.
Complexion: It's all about a healthy, dewy complexion.
* Spot treat problem areas and darkness with Tarte The Eraser 4-in-1 Concealer
.
* Apply Smooth Operator Tinted Moisturizer w/ SPF 20
all over the face.
* Using Rest Assured Brightening Wand
, apply the sheer pink highlighter on top of cheek bones, over lids before shadow application, on the bridge of the nose, on the cupid's bow and in the corner of eyes.
* Apply Natural Cheek Stain in Doll Face
in a U-shape from top of lids to outer and under eye area (acting as an illuminator).
Cheeks: Just a hint of flush.
* Dab Natural Cheek Stain in True Love
on apples of cheek.
* Highlight cheeks with Natural Cheek Stain in Doll Face
.
Eyes: Kohl-rimmed eyes-emphasis on the eyes without being too smoky.
* eye shadows:
o Using the Eye Couture Eye Palette
apply the shimmery deep gray and top with the silver sheen
* liner:
o Line inner rim and lash line with EmphasEYESâ"¢ High Definition Eye Pencil Black
.
o Using emphasEYESâ"¢ waterproof clay shadow/liner smudge the top line. You want to create darkness around the lash line.
* lashes:
o Curl lashes with Picture Perfect Eyelash Curler
.
o Coat top and bottom lashes with Lights, Camera, Lashes!
4-in-1 natural mascara.
* brows
o Using the lash and mascara comb brush brows in an upward motion.

Lips : A healthy, natural, berry stain.
o Natural Lip Stain with LipSurgence Technology in Moody
(exclusive to Sephora)
I did not write the information above; it was provided to me by tarte.