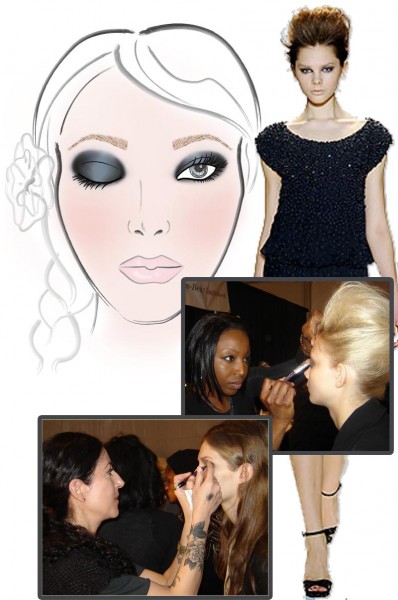 Lela Rose Fall 2010 Look: tarte for Beauty.com
Makeup Artist: Tina Turnbrow
Inspiration: Nature's celestial landscapes-
think of the nighttime sky and imagine
a full moon peaking behind the clouds.
Eyes: Silvery, moonlit eyes-a silvery/black smoky eye without edges and just a touch of blue. The eye is almost 3D, rounded and mysterious.
Direction: Think of the eye as a rounded sphere or planet. The inner crease of the eye is darkened up to the brow with the shimmery deep blue gray (eyeshadow in Lucy I'm Home). The outer area is rounded, softly muted blackness. The center of the eye is the lightest, with darker edges (inner and outer corner of eye) ending in black (Eye Couture Palette
). Apply blue lagoon only in the center of the top and lower lids. Blend the blue into the gray and then into a bit of the black. There should be a bit of the blue and silver gray (Eye Couture Palette
) blended in the center of the lower lashline. Apply smolderEYES in the inner rim of the eyes. Top it off with a coat of Lights, Camera, Lashes!
mascara on the top and bottom lashes (no curling needed). Leave eyebrows-do not fill in. After finishing the eyes, clean underneath with The Eraser 4-in-1 Natural Concealer
.
Complexion: It should feel muted like a hazy, cloudy sky. The mineral powder will matte and tone skin.
· The Eraser 4-in-1 Natural Concealer
-use after applying shadows to
avoid fallout.
· Tarte Smooth Operator Tinted Oil-Free Moisturizer with SPF 20

(one shade lighter than model's complexion)
·  Provocateur Mineral Pressed Powder with SPF 8

·  T-Zone Travel

cheeks: Just a touch of healthy blush.
·  Blissful
natural cheek stain (warm peachy pink)
·  powder over blissful with Provocateur Mineral Pressed Powder with SPF 8