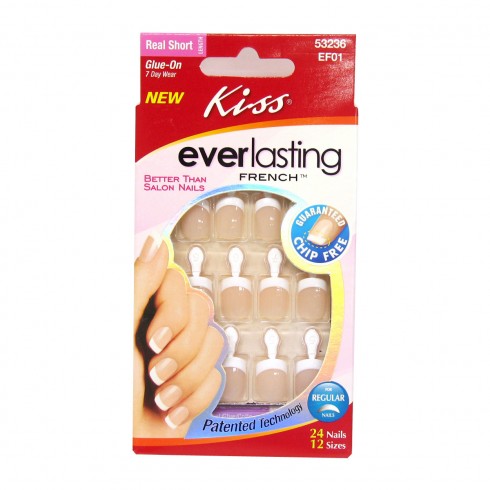 So Valentine's Day is over and you're still rocking an expensive manicure.  Your nails look amazing, you feel glamorous…  And if you keep it up, you're gonna be broke.  I used to get gorgeous artificial gel nails at the salon twice a month, and it cost between $40 and $50.  After a few months, the nails started to break frequently and the filling process hurt.  So not fun, and not particularly sexy, either.
I stopped getting fills when I realized that I could be putting that money to use in so many better ways.  The savings?  About $500 a year.  FIVE.  HUNDRED.  DOLLARS.
Right now, I have an amazing set of durable, gorgeous, realistic looking nails.  They fit perfectly, are a convenient length (one that's manageable and sexy at the same time)…  and they're inexpensive.  So what's my secret?  I'm currently sporting a set of Kiss Everlasting French Nails!
Kiss sent me two packages of their Everlasting French Nails (in Real Short and Medium), as well as a few files.  At first, while excited, I was wary of a manicure that glues on.  I had press on nails in seventh grade and they constantly popped off, caught on things, broke…  They were a disaster and an embarrassment.  So I still had those memories floating in my mind when I started putting these babies on.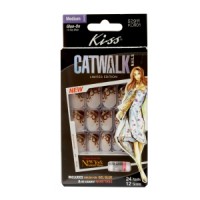 The application process is super simple – swipe your nails with polish remover, rinse, squeeze on some glue and press on the appropriate size nail.  The whole thing took under five minutes.  I'm not actually crazy about French manicures, so I painted mine – which is very easy because polish dries faster on these nails than my own.  I used one of the new shades from Zoya Reverie and glammed it up with hot pink glitter polish.  Nobody's been able to tell they're not my real nails.
Kiss has a wide selection of Artificial nails, ranging from plain to highly decorated.  Most are around $5.99 and last for about a week.  That's about $24 a month, which is around half of what you'd pay in a salon.  Plus you can stop and start them anytime you want without more fees, unlike artificial salon nails which require lengthy and costly application and removal processes.
I've been wearing mine for several days and I've only had to come off- and both times were my fault, when I caught them on hard items and yanked.  The glue tube is tiny and discreet, so it's easy to keep with you and it only takes seconds to repair the break!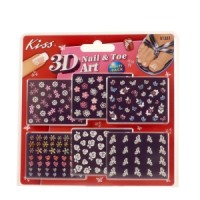 Kiss makes more than just artificial nails – they also make great files, nail art, manicure & pedicure kits, and more.  They're all you need for professional looking nails at home!
Kiss is offering one lucky reader a chance to try Kiss products for themselves!  One of you gals will win a set of Kiss products that will include nail art, a manicure and pedicure kit, everlasting French nails, and several files.  The exact selection may vary a bit, but that's roughly what you'll be receiving – and it will be awesome!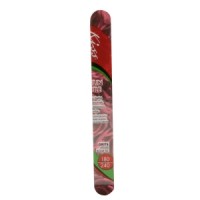 Contest Info:  This giveaway will run from February 17th to February 24th, 11:59 PM EST.  US & Canadian Residents only, please.
Mandatory Entry:Â  Check out the selection of Kiss artificial nails and tell me which ones you find most appealing!
Extra Entries (please leave a SEPARATE comment for EACH):
Enter the UPrint Business Card Giveaway – 1 Entry
Enter the Alight Giveaway – 1 Entry
Fan The Fashionable Gal on Facebook – 1 Entry
Follow The Fashionable Gal on Twitter – 1 Entry
Subscribe to The Fashionable Gal – 1 Entry
Blog about this giveaway & leave me a link – 3 Entries
Tweet this giveaway using your own link or the one below (1x per day):
Kiss Nail Basket Giveaway from @fashionablegal – Everlasting French Nails, Mani & Pedi Tools, Files & more!  http://tinyurl.com/y9qsaz9