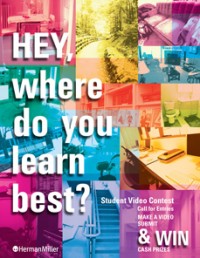 "Herman Miller is asking full-time students attending 2-or-4-year U.S. colleges or universities where they learn best, and encouraging them to document the places-on or off campus- that bests support their learning.
Since learning can take place anywhere, Herman Miller is hoping to see a variety of entries that are creatives, fun or serious – all from the perspective of students. The results will help promote discussion among higher education professionals about the rapidly changing needs of students and how higher education facilities can respond to those needs.
The first place winner receives a $2,500 Visa gift card, second place winner receives a $1,500 Visa gift card and third place winner receives a $1,000 Visa gift card.
For more details visit the Discover blog post here.
To submit your entry, go here.
Call for entries ends March 26, 2010."
This might not be strictly fashion related, but who doesn't love a good contest?  And better yet, who can't use $2,500?  If you enter, good luck!  And if you win, don't be shy about sharing the wealth…  Ya know, just a thought!