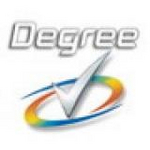 About a week ago, I got an email from Degree asking me if I'd like to participate in a new campaign they're holding, which celebrates Spring and the launch of their new deodorants.  Honestly, I sort of forgot about it – I had a ton going on this week and have been too busy to keep track of everything!  So yes, it was out of my mind.
Then, this morning, there was a knock on my door.  Normally I wouldn't be pleased for someone to wake me up, but this time it was actually a blessing.  My phone had shut off (taking my alarm with it) and the knock occurred literally TWO minutes before I need to get up!
Anyway, that's not the fun part.  The knock came from a UPS man dropping off a package for me!  Now that's a welcome way to start the morning.  I love any kind of mail, but obviously, packages are the best.
And in the package?  Orange Olive Oil Cake!  Seriously, it just keeps getting better, right?
Well it turns out that Degree's campaign is actually really neat.  They're sending me five packages over the next five weeks, and each will correspond with one of the five senses.  Today's, obviously, was taste (although the cake smelled great too!).
So why Orange Olive Oil Cake?  Well it turns out that "the ingredients in the cake are inspired by two of the new fragrances from Degree Women Natureffects Collection – olive leaf & pink pepper and orange flower & cranberry."  Um, yes, we're talking about deodorant.  Deodorant which may or may not be as delicious as the cake.
Did you know?
~86% of women surveyed said just by taking their lunch outside they improve their productivity.
~Nearly one in four women say the outdoors makes them feel more energized.
(The Degree Women Survey was conducted via telephone by KRC Research in October 2009 with a random sample of 500 women ages 18 and older).
Stay tuned for more updates about Degree Natureffects – and the mystery boxes!