HauteLook is currently featuring some amazing boutiques and great deals.  If you order by the end of this weekend and spend $99 or more, you'll receive a $20 account credit.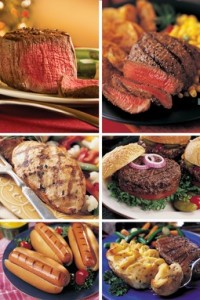 I'm drooling over everything in the Omaha Steak section – there are some amazing deals going on!  Any purchase from the boutique will be accompanied by a $20 Omaha Steaks gift card, which is a great way to reorder favorites later on at a cheaper price.
My suggestion?  Order one of these amazing meal deals for Valentine's Day.  I know, it probably won't arrive in time.  Instead, putting together an amazing meal with these gourmet items after the big day can be your special gift for your guy.  Next year, I bet you'll get diamonds.
"HauteLook brings the thrill back to shopping through exclusive, limited-time, online sale events. Each day, HauteLook partners with premium fashion and lifestyle brands to create private, upscale sale events at savings of up to 75% off retail prices."