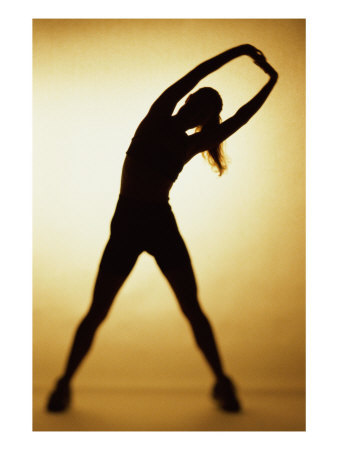 I'm sure that many of you gals have resolved to become fitter and healthier in 2010.  Exercising and eating right is obviously the way to go, but incorporating products that target body problems into your routine will provide a great boost.
There are four products I've received for review that I'll be testing out in the coming days, weeks, and months (depending on the products recommendations).  Of course, I'll share my results with you – or lack thereof, though I only accepted specific products that I have positive knowledge about.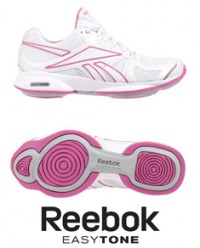 I previously shared that I was reviewing Reebok EasyTone Sneakers
.  When I originally posted about them, I had just begun to wear them and hadn't seen any results.  After wearing them as my main shoes, even without walking a significant amount, I have definitely noticed a difference.
To be honest, my thighs are too large to see if there's any toning going on.  However, my butt has definitely benefited from the EasyTones
.  While it's not smaller (they're not weight loss shoes, so that's not a surprise!), the shape has completely changed.  Rather than being sort of a shapeless mass hanging off the back of me, my ass is now rounded and lifted.  So I'm completely and totally in love with the EasyTones
and intend to keep wearing them, forever.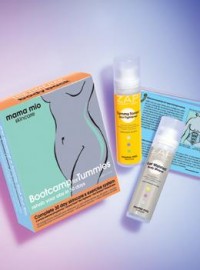 Another product I've received and am excited to review is Mama Mio Bootcamp for Tummies
($99).  I was thrilled with this product right off the bat when I saw that it came with a detail explanation of how and why the products work, AND a simple exercise routine to use in conjunction with them.  The product claims are practical, rather than advertising it as a miracle serum that will immediately make your fat disappear (although I wish it would).
"A radical new way to tackle tummy bulge. If you commit for 30 days, you will see results; your tummy will be tighter, flatter, smoother and more defined. Your posture will be improved, your back stronger, your skin softer – more toned, firmer and touchable. Bootcamp is a 4 minute a day skincare and exercise system in handy take-home kit. Lift, tighten and reshape your skin and lift, tighten and reshape the muscles beneath for double whammy results in only 4 minutes a day."
My only issue with this product – and I could be wrong – is that it's more for ladies who have only a bit of a belly, perhaps after pregnancy or after already having lost a lot of weight.  I'm not sure what sort of results it will yield for me, as I have lots of losing to do.  I've been doing the exercises without using the product to begin with, as I'd like to use the "Tummy Toner" and "Get Waisted" components when I have a smaller area to work with!
Talik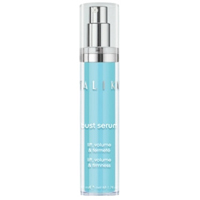 a's Bust Serum ($49) is another product on my body improvement roster.  While I'm young thus have yet to enter into a major battle with gravity, I wear a 40D.  Because of the sheer weight of my breasts, I want to make sure that I keep them firm and prevent any unattractive stretch lines.  Also, every time I see the bottle I think of Grease – "I must, I must, I must improve my bust…"
Talika boasts that the serum will add up to 1 cup size in 6 weeks (although I secretly hope it doesn't), as well as an 18% lift and a 70% increase in firmness.  You can read all about the manner in which the serum goes about doing that here.
I used the Bust Serum once to check the texture, smell, and feel in order to ensure that it would be a product I would actually enjoy reviewing.  It passed my test on all of those levels, so I'll be adding it to my routine when I begin to use the rest of the Mama Mio products – I figure I should do all my "lotioning" at the same time…  As long as I keep them straight and don't shrink my bust while increasing my waist.  Wouldn't that be a nightmare!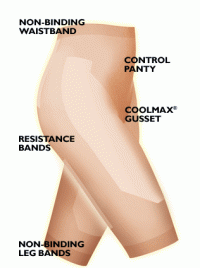 Finally, this week I received a product not quite on the market:  Shapewear from ShaToBu.  ShaToBu is an innovative new type of shapewear, created by a chiropractor, that features resistance bands to help tone muscles and burn calories.
As I mentioned, the product isn't yet available, but you can sign up on their web page to stay updated on it's release AND to receive a free gift when you order.
I'm not going to get into the details, as that will be a separate post once I've had the chance to really experience the product.  Three other lovely ladies are trying it out with me, including the lovely Jen from My Beauty Bunny.  I'm really excited to see how the ShaToBu will work with the Reebok Easytones – my hope is for maximum shaping and toning!
Of course, none of these products are going to make massive improvements without other lifestyle changes and work on my part.  I'm moving back to Vermont in early February, and going to be doing yoga and water aerobics, with the intention of building up towards more strenuous activities like kickboxing and spinning.  I'm too lazy and unmotivated to just "go to the gym" as all of that big equipment just looks tedious and unpleasant!
What are you ladies doing to shape up in 2010?  Trying any products to kick start or aid your routine?  I'd love to know!