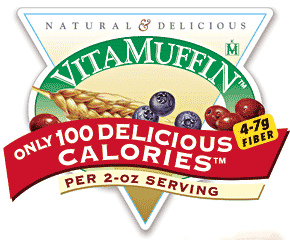 "Vitalicious® Inc. is the market leader of innovative "vital and delicious" baked goods that promote a healthy lifestyle, without sacrificing taste. First to market with 100-calorie servings, Vitalicious® is leading the way to a holistic approach to maximize satisfaction with minimum calories, with products that are low fat and high in fiber and nutrients. Vitalicious® has created a unique triangle of need-satisfaction (All-Natural ingredients + Nutraceuticals + Weight Management), the only baked-goods company in this niche. Founded in 1999, Vitalicious® creates and sells a variety of unique, healthy, value-added baked goods under the VitaMuffinâ"¢, VitaTopâ"¢, VitaBrownieâ"¢, VitaCakeâ"¢, and VitaMuffin Mixâ"¢ trademarks. Vitalicious® products are now sold at stores nationwide and at www.vitalicious.com (www.vitalicious.ca for Canadian Residents). Here at Vitalicious® our mission is simple: to make healthy and delicious baked goods that are fortified with essential vitamins and minerals."
When you're watching your weight or trying to diet, giving up your favorite snacks is difficult.  And for some of us, it's painstaking, devastating, and downright horrible.  No cake?  No cookies?  No brownies?  No muffins?  No fun of any kind.
I've been highlighting a healthy snack option just about every week over the past few months, but there's one thing I haven't been able to suggest a replacement for:  baked goods.  However, that's back when I didn't know about Vitalicious!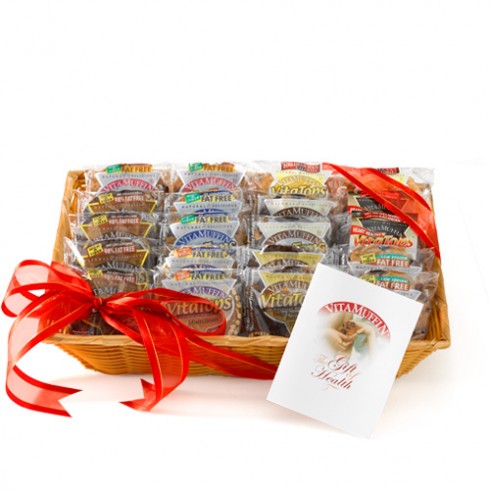 Vitalicious sent me a sampler of their products, similar to the one pictured above (that's the Gift of Health Sampler – holiday gift, anyone?).  It contained VitaBrownies and VitaTops in the following flavors:  Chocolate Mint, Banana Nut, Double Chocolate Dream, Deep Chocolate, Fudgy Peanut Butter Chip, Golden Corn, CranBran, AppleBerry, MultiBran, and BlueBran.
While my original interest was in the most chocolate packed flavors I could find, my favorite is actually the Golden Corn variety!  They're absolutely delicious with a tiny dab of your favorite butter substitute, paired with a healthy, low-sodium soup for lunch of dinner.  A dinner that could be quite boring is now packed with flavor!
I found some of the flavors a tiny bit plain – you can only get so close to the real thing for 100 calories – but there's a simple fix!  A little dab of peanut butter (or jam) on top give the VitaTops a boost without adding a ton of calories; just remember that I said a LITTLE dab, or else the extra calories will add up quickly.  A chocolate muffin from Costco is around 700 HUNDRED calories, so even if you add a little extra to your VitaTop, you'll still be making a great snacking choice.  Plus peanut butter is filling and packed with protein!
If you're more of a DIY gal, Vitalicious also offers a variety of baking mixes for a selection of muffins and brownies.  The satisfaction of baking without all the high-calorie goodies it normally results in; plus, you won't have to go out and buy a slew of special ingredients!
If you're looking for a healthy gift to give or receive, Vitalicious is a great option!  Just remember that the products need to remain frozen, so don't get more than your dorm freezer can handle!