We all know it's coming…  The splurging, the overindulging, the regret, and finally – The Resolution.  You know, the one that seemingly everyone makes every year, that finally, FINALLY they're going to drop the extra weight?  The dramatic oaths that those fifteen, twenty, fifty pounds are going to be gone by some arbitrary date?  The expensive membership to the gym that gets visited a handful of times in January, then never again?  Yeah, you know what I'm talking about.
This year, skip the hassle.  Skip the craziness, the promises, the fancy treadmill.  And maybe skip a few of those Christmas cookies.  Instead, treat yourself to a pair of EasyTone Sneakers from Reebok.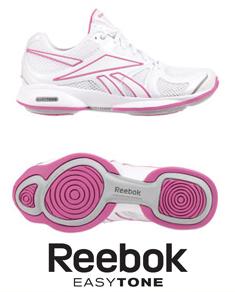 They're not magic.  You won't lace up and instantly become a svelte supermodel.  But… they'll start you on the right track.
If you walk a lot (shopping totally counts), the EasyTone
will quickly become the most fashionable shoes in your closet.  Why?  Um, how about a better butt!  The EasyTones increase toning in your glute (aka ass) muscles 28%.  That's pretty freakin' fantastic.  They'll also help work other key muscles in your legs, for sexier stems all around.
So how do they work?  Bill McInnis, a former NASA Engineer, helped create the EasyTone
.  Basically, the soles of the shoe feature "balance pods."  These pods throw off your body's stability, thus making your leg and glute muscles work harder to keep you balanced.  This simple adjustment to how your muscles work gives you a mini workout, and thus helps tone those key muscles.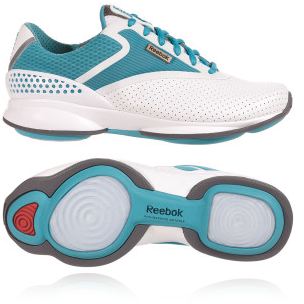 Elle Magazine featured an article on this new technology in their November issue, which discussed the benefits of wearing shoes and sandals like Reebok's EasyTones (which were directly mentioned).  If you can find the November issue, or have it but skipped the article I'm referring to, I highly recommend checking it out.  Elle does a great job of explaining why EasyTone's and similar shoes are efficient, and what exactly they do for you.  There were several pieces of information that jumped out at me in particular.  For one, wearing high heels every day is obviously bad for your feet (hammer toes, callouses, blisters, etc.) but did you know that doing will actually cause your hamstring to shorten over time?  Yikes!
The other piece of information that really stood out in the Elle article was that the "pod" technology utilized by EasyTone's is good for your joints, in addition to your muscles.  The thicker, cushioned sole helps absorb a significant amount of the impact each step creates.  This prevents it from being transferred to your ankles, knees, and hips – which can prevent weakness, wearing, and outright injury to those areas.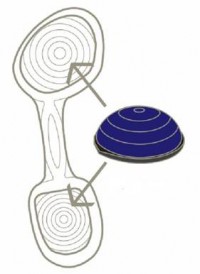 I was sent a pair of black EasyTone Sneakers
for review, and I love them.  I used to be addicted to heels, but have started wearing flats often for convenience.  Normally, I don't wear sneakers out, as I don't like how they look.  However, I find the EasyTones to be quite stylish, so I've been wearing them out frequently.  I take a walk for exercise almost every night, and I wear the EasyTones then, too.  If I wear them for an extended period of time, I do feel some soreness in my legs; rather than being uncomfortable, I'm excited to know that they're working!
So it's not a magic pill, but could this solution be much simpler?  All you have to do is walk.  Pick up a pair now, and wear them while you're holiday shopping, cooking, or taking care of other errands or preparations that keep you on your feet.  Tone while you go, and look better in that little holiday dress!  Your only resolution this year should be to take a few extra steps each day – in your brand new EasyTones, of course!
EasyTone Sneakers
are available in a wide selection of styles and colors.  Price ranges from $99.98 to $109.98.