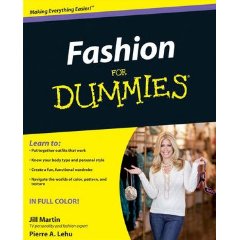 "In Fashion for Dummies, fashion expert and three-time Emmy-nominated television personality Jill Martin and co-author Pierre Lehu help readers build a stylish and functional wardrobe suitable for every occasion.  Whether it's a holiday-chic cocktail party, an 11:00 AM wedding in February, or just an everyday business casual, Jill Martin has you covered.  Part reference, part tutorial, the book offers advice on finding clothes that work with your body type and personal style, as well as practical tips on garment construction and navigating the worlds of color, pattern, and texture.
In tough financial times, it's easy to shy away from spending money on clothes – especially designer clothes.  Fashion for Dummies shows you how to put together a high-quality wardrobe without breaking the bank.  Shoes, jewelry, and other accessories are given ample coverage, and there's even a section dedicated to menswear with discussion on basic cuts and styles.  Martin's friendly guidance and professional tips will sharpen your shopping skills and show you how to buy clothing that will look great for years to come.
Packed with photos and illustrations, this full color guide also includes top ten lists such as "Ten Faux Pas and How to Avoid Them."  You'll also find words of fashion wisdom from top designers and celebrities such as Betsey Johnson, Tory Burch, Cynthia Rowley, and Tyson Beckford.
Go from novice fashion-hunter to seasoned fashionista with Fashion for Dummies!"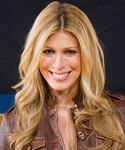 Jill Martin is a fashion expert and three-time Emmy-nominated television personality.  She appears regularly on NBC Today show highlighting trends and must-haves, and is well-known for the popular "Ambush Makeover" segments.  Jill lives in New York City and is developing her own clothing line.  To learn more about Jill, check out her website.
Pierre A. Lehu has worked as a publicist, literary agent, and writer.  He is the co-author of "Sex for Dummies."
I was thrilled to receive a copy of Fashion for Dummies for review!  I have a whole shelf of beauty "self help" books, and love reading new fashion literature.  And as a student, I'm a big fan of the "Dummies" series!
Fashion for Dummies contains 19 chapters, which are contained in six major sections:Â  Fashion, Style, & You, Mastering the Basics of Garment Construction, Fabrics, and Color, Stocking Your Closet without Going Crazy or Broke, Dressing for Any Occasion, Finishing Touches, The Part of Tens.
You don't have to read Fashion for Dummies in order, which is a relief for any who's crazy busy like I am!  If you have the time to read it cover-to-cover, go for it – otherwise, skip around and check out the chapters that are most interesting or relevant to your life.  To help you navigate, Martin has included little symbols in the margins that denote things like:  tips, remember, fashion fix, budget, fashion faux pas, and technical stuff.
What I really love about Fashion for Dummies, and what really sets it apart, is how it's completely laden with color images that illustrate the text wonderfully.  I'm a very visual learner, so getting an eyeful to accompany the text really helps to make Fashion for Dummies a learning experience rather than a quick read!
Pick up your own copy on Amazon for $16.49 – Fashion For Dummies