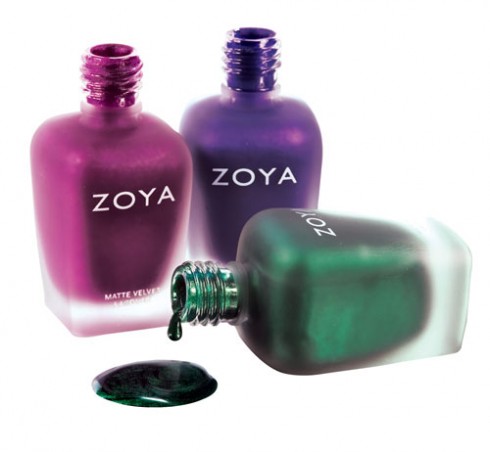 After trying matte nail polish for the first time a few weeks ago, I've been totally hooked.  Normally, I love the luxe look of long, shiny nails…  But this season, matte has really taken the cake.  The more subdued finish has a real feel of elegance, and matte tips makes me feel pulled together and sophisticated.
Because the brand I tried in my first foray only offers two colors (and I'm a rainbow kinda gal), I've been on the hunt for a wider array.  And of course, Zoya has provided the solution – no surprise, since the Zoya line contains several hundred scrumptious shades.
The Shades:
The full line of Zoya mattes includes six colors:  Loredana (Black), Dovima (Grey), Posh (Red), Savita (Purple), Harlow (Pink), and Veruschka (Green).  The last three (pictured above) are the shades I was sent for review.
Even though I'm all over anything green, Harlow is the shade I'm currently sporting.  I love the dark, berry hue – and more importantly, it coordinates perfectly with one of the Ultra Glitter shades (which I'll be dishing on later).
The Application:
Two coats of the matte polishes provides rich, even coloring.  The formulation has a soft, metallic shimmer that provides a stunning finish.  Zoya doesn't recommend using a base coat of any kind, and obviously a top coat will ruin the matte effect.  The formula of matte polishes lasts a much shorter time, so whether or not you use a base coat is up to you.  I find that the polish chips extremely fast without any base coat, but that's fine if you're not obsessed with chipping.
Oh, and a big plus – Zoya's mattes dry SUPER fast.  Like, within seconds.  It makes my manicures significantly easier and smudge free!
And then some:
To add a little extra somethin' to your manicure, especially if you want to jazz it up for a night out, there are several ways to do so.  My favorite way is adding glitter polish in a coordinating shade (as mentioned above) to several or all of your nails.  Pick your pinkie and ring finger if you want to grab attention, or choose your thumb and pointer to add a flash of unexpected.  OR, if you're not into glitter polish, try a twist on the French Manicure.  Rather than using a second color, paint the tips of your nails with a super shiny top coat.  It's a really cool effect, and will also make your manicure last longer.  Win win!
To Purchase:
MatteVelvet Fall 09 includes the black, grey, and red polishes (pictured below).
MatteVelvet Winter 09 includes the purple, pink, and green polishes.
Bottles retail for $7 apiece.