My quest to endlessly accessorize everyone and everything around me has taken me to new places…  I bring to you:  Fashionable Technology.  This is beyond those overpriced cellphone covers and blinged out keypads sold my pushy people in mall kiosks.  Nope.  We've reached a whole new level of fabulousness.
Schtickers is a website I recently discovered that sells covers for your iPod, Phone, Laptop, or Wall/Surface.  I was given the option to review one of their products, and jumped on the opportunity to get a gorgeous "skin" for my new MacBook!  Schtickers will cut their product to fit any laptop, so no worries if you've got a laptop that's not one of the more conventional brands or sizes!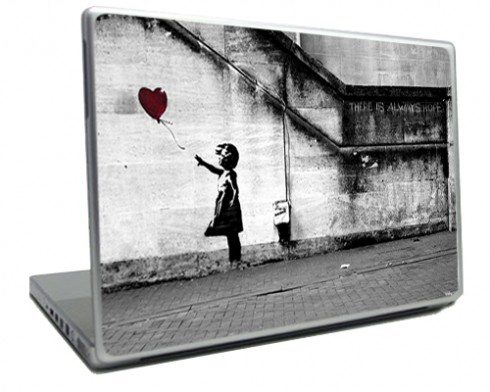 I chose the Bansky Graffiti "There is Always Hope," skin for my new baby.  I did explore all the designs offered (there are tons!) before selecting mine, but I kept coming back to this particular picture, and knew it was the one for me.  I've received multiple compliments from friends & strangers, so I've been reassured that I made a good choice!
Now if you're thinking "Why did you ruin your brand new computer?" – chill!  These skins are easily removable and completely reusable, so if you want to change the "clothes" on your toys as often as you switch up your own style, it's as easy as removing a band aid…  Except totally painless.
If you somehow don't find a style that appeals to you, or have your own photo that you'd totally attached to, Schtickers has you covered there, too.  With the Custom Skin Feature, you can make personal photos or favorite images into covers for all your devices!
Prices vary from product to product, but are reasonable; a skin like mine is $19.99, while an iPod Classic is $12.49.  If you put your gadgets through a lot and want to keep them from being scratched in your page or when you drop them on the pavement or just want them to stand out, Schtickers are for you!  And for the girl or guy who has everything, Schtickers are a wonderful gift to adorn all those electronics they already have!