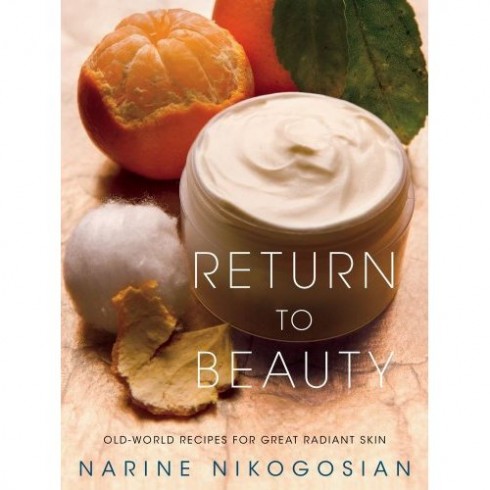 "Return to Beauty offers regimens made from fresh ingredients that can be found right in your kitchen.  With recipes for winter, spring, summer, and fall, you can look beautiful throughout the year.  Narine Nikogosian's natural and inexpensive products can be whipped up in less than ten minutes.  Have a jar of honey in your pantry?  Mix it with a few crushed walnuts to create a sensual, aromatic scrub for oily skin.  Use dabs of cottage cheese to lighten under-eye circles, or almond oil to rehydrate cracked lips.  Narine also provides recipes based on astrological signs, such as for Scorpio, a Gracious Grapefruit Mask made of grapefruit, egg yolk, and soothing honey to rejuvenate your skin after a late night.  Narine is from a long line of Armenian women who have been harnessing the powers of nature to creat everlasting beauty.  For the first time, she reveals her secrets so that you can have star-worthy skin.
Narine Nikogosian trained in nursing with a concentration in dermatology in her native Armenia and Russia before she came to the United States.  She ran the successful Starface salon in Glendale, California, and later built a well-respected reputation as a talented aesthetician at Ole Henriksen Face/Body on Sunset Boulevard in Los Angeles.  Her clients include many of Hollywood's top stars, including Jessica Alba, Carmen Electra, Charlize Theron, Ellen DeGeneres, and Kiefer Sutherland."
It's time to forget what Mom said about not playing with your food!  After receiving a review copy of Nikogosian's "Return to Beauty," my refrigerator has become just as exciting as my vanity (and not just for the secret tub of frosting in the back).
I have a whole shelf full of cookbooks, and another full of "beauty manuals."  I rarely foray into any of these volumes, although not because they lack valuable information- I ignore them because they call for far too many complicated and pricey ingredients!  Return to Beauty hasn't even made it onto my bookshelf, however, because it's so full of practical and inexpensive wisdom that I don't want to put it down!
Before I even made it to the beautiful recipes, I was taken with the breathtaking photography.  "Return to Beauty" is packed with fabulous photos of the recipes in all stages – fresh, unaltered ingredients, mixing steps, and decadent final products.  I have to admit that with such mouthwatering concoctions, I'm a bit tempted to skip the mixing and go right to chewing…
The Table of Contents is really a wonderful tool in "Return to Beauty," and I didn't skip it like I do with most books.  The manual is broken down into several sections:  Seasons, Sun Signs, Simple Solutions, Pregnancy, How to Give Yourself a Facial, and No Frills for Men.  Each section is divided into smaller pieces, by things like skin type, horoscope sign, specific concerns, target areas of the body (hair, hands, nails, and lips receive special attention!).
As for the recipes themselves?  Fantastic!  What I really appreciate is the simplicity of each recipe; most are only three ingredients, and I think the most "complicated" recipe contained a very modest five.  Even better, most of the ingredients are ones that you most likely already have (eggs, nuts, veggies or fruit).  The ones that aren't exactly every day staples are items that you can easily purchase at the grocery store; they're generally inexpensive, and foods that can be incorporated into your actual meals, rather than going to waste if you only use them for one recipe.
Each recipe includes a short explanation of how the ingredients are beneficial, a list of ingredients, comprehensive preparation instructions, and simple application details.  Easy, easy, easy- that's the key!  Some of the recipes I'm most interested in trying:  Tangy Tangerine Sour Cream Mask, Milky Rose Cleanser, Snowy White Decolletage Mask, Satiny Smooth Hair Mask.
"Return to Beauty" is published by Simon & Schuster, and on Amazon.  It will make a great addition to your beauty repertoire, or that of a friend- don't forget about your holiday shopping!  I'll be giving away a copy in December, so stay tuned…