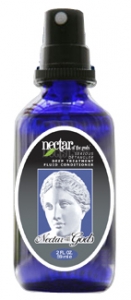 Nectar of the Gods Benefits
~Deep treatment conditioner, color sealer, leave-in conditioner, serious detangler, and anti frizz, while preventing damage caused by heat styling.
~Restores and nourishes dull and lifeless hair, also, hair damaged by coloring treatments and natural environment.
~Adds body to fine hair when you use as conditioner, make sure to rinse.
~Use as a protectant during blow drying and flat iron application. Gives natural shine (silicone free), no residue on the hair.
~Serious detangler, seals hair color, seals split ends. Reduces drying and blow drying time.
What Makes Nectar of the Gods Special
~Propylene Glycol – A mixture of propylene glycol esters of coconut fatty acids. Aids in removing unwanted "build – up" from hair.
~SD 39 – A mixture of fatty alcohols derived from coconut oil consisting predominantly of cetyl and stearyl alcohols. Used as emollients, thickeners and emulsion stabilizers.
~Laurylmyristil – It is the polyethylene glycol ether of Lauryl Alcohol, principal alcohol of coconut oil. It's modified to give it a "water loving" character. Used as an emollient and emulsifier.
~Myristil – Derived from fatty acids, it has anti – static and moisturizing properties.
~Linalool – Anti-static and hair conditioning agent.
____
I do a lot of damage to my hair everyday:  blow drying, straightening, chemical treatments, harsh styling products…  If I don't take care of it, my hair quickly becomes lifeless, frizzy, and dull.  Yuck!  Thankfully, I was introduced to Nectar of the Gods, which is a product that soothes & repairs my tired hair.  Normally I'm wary about using products that are "oily" but Nectar isn't at all like pouring kitchen items into my locks!  It's hydrating and refreshing, but doesn't make my hair feel at all greasy or weighed down.  This is also a great solution to the dryness caused by Fall & Winter weather.
After my success with Nectar, it's no surprise that it has a celebrity following.  Stars like Charlize Theron, Fergie, Gwen Stefani, and Jennifer Aniston have all used Nectar, and we all know what beautiful hair they have!
You can purchase Nectar online:  2 oz is $22, 5 oz is $46.  If you'd prefer to purchase in person, there's a list of salons where Nectar of the Gods is available as well.
A review product was provided to me.