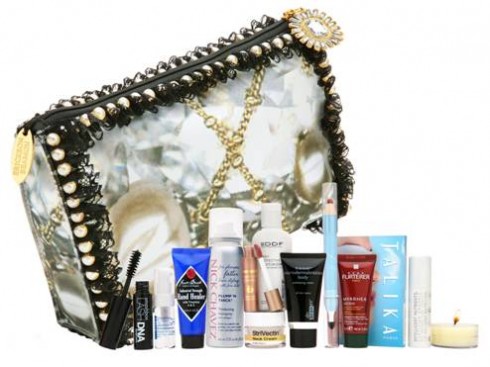 "The newest designer bag collaboration from Beauty.com invites famed jewelry designers Karen Erickson and Vicki Beamon to transform the traditional cosmetic tote into a glittering gift with purchase this holiday season. Legendary for their runway collaborations with designers such as Marc Jacobs, Chanel, Dior, and Givenchy, Erickson Beamon is the first jewelry house to be featured in the gift with purchase designer bag series. The accessory features whimsically printed duchess satin, a bijoux zipper pull, embossed gold logo tassel, and lace and pearl embellishments. Spacious, yet pleasingly portable, the 'Glenda Party Bag' is a perfect gift for toting beauty staples during holiday travels."
The Beauty.com sample bag contains products from:Â  dr. brandt, Sue Devitt, Talika, Nick Chavez, Jack Black, Rene Furturer, DIANA B., Smashbox, StriVectin, DDF, Phyto, Intelligent Nutrients, Urban Decay.
Still working on your Holiday Shopping?  Beauty.com's sample bag offer is a great way to get something for them, AND something for you!  Or, use these fabulous fashion minis as stocking stuffers – even as part of a gift basket (but keep that gorgeous bag for yourself).  I love to add a few little surprises to a larger gift, and a mini mascara or candle is a perfect addition to a beautifully wrapped gift.
I'll be dishing about my favorite beauty gifts on our new site, Fashionable Holiday.  Some of my picks are already up, so check it out!