"Lisa Oswald has been designing and creating jewelry from the time she was a little girl. Her first works were oven-fired bead necklaces made of clay, which she dug from a stream bed near her home. She fashioned shaped beads, baked them in her mom's kitchen, and sold her novel creations to her aunts. She was just eight years old.
While working toward her BFA at Kutztown University, Lisa met Kermit Oswald. She began her jewelry enterprise in 1983 with her twin sisters Susie and Sandy. Together they named the company Sorrelli, which is adapted from the italian word for sisters, "sorrelle".
Sorrelli jewelry is hand crafted from genuine semi-precious stones and high quality Austrian crystals. It is designed to become heirlooms, handed down through the generations.
The Sorrelli vision, to create beautiful jewelry and bring enjoyment to those who wear it, continues today."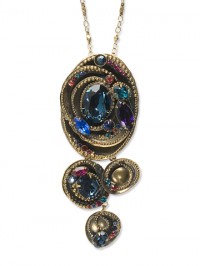 Sorrelli is a purveyor of more than just jewelry- they sell elegance, confidence, and beauty.  The piece above (#NCB77AGSCS) is one piece I'm particularly partial to; I'm infatuated with the opulence that these ladies provide!
The site is very comprehensive and easy to navigate; simply select the type of item you're shopping for (i.e. Necklace, Brooch, Ring) and then either check out the category as a whole, or make a few easy clicks and narrow the selection down to a display refined to your exact taste!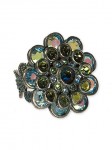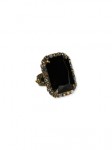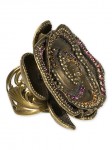 Rings have been my latest objects of affection, and I'm particularly coveting these three (#RBX2AGSCS, #RBT69AGEM,#RCB2AGPLD).  The craftsmanship is flawless, the designs are stunning, and the style factor is off the charts!
Follow Sorrelli on Twitter & Facebook in order to stay updated on sales, get sneak peeks at new collections, and stay part of the Sorrelli scene!
In honor of Breast Cancer Awareness Month, Sorrelli is also featuring some gorgeous Pink jewelry!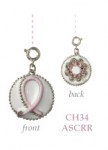 Sales from these three beautiful pieces (which can be found on the home page) will benefit Breast Cancer, through October 31st!  And even better?  In the true spirit of sisterhood, Sorrelli generously donated the pendant at left (a $44 value!) to Fashionable Gals for a Cure!  Just look for Prize #2, which also contains an Ella Moss top, Honeydew Bra & Panty Set, and Gillette Shave Duo (worth $149.69 altogether).  Good luck, ladies- and thank to to Sorrelli!