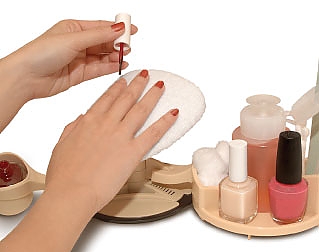 "Radapro Nail Station makes it easy for you to get professional-style manicures and pedicures at home."
Includes:
Hand/Foot Support Stand
Polish Holder
Accessory Tray
Pump Bottle for Polish Remover
Washable 100% Cotton Slip Covers
Doing my nails at home is often a messy, disappointing experience.  I've spilled polish, smudged my nails, or misplaced supplies FAR too many times, which is nothing but exasperating!  Pedicures are even more of a nightmare, as there's no particularly comfortable way to position myself AND keep everything nice and neat.
The Rada Pro Nail Station ($24.99) completely eliminates and each every one of these issues.  It's a complete revolution in DIY nails and I can't get over how in love with the polish holder I am!  Doing my nails no longer requires an "emergency towel" for when I inevitably knock over the bottle- plus I can put my full attention on my nails, rather than awkwardly holding the polish and brush while both hands are otherwise occupied.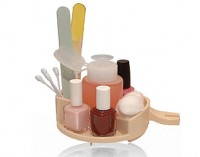 The "tool" compartments are also incredibly helpful, as they prevent any digging around when suddenly I need a nail file or cotton ball.  The inclusion of the flip-top polish remover bottle is also genius, as it's another accident-prevention tool!  No more knocking over those uncapped bottles and ruining the finish on your coffee table.
Several of these items are also available for individual sale (slip covers, polish remover bottle, etc.)- you can check out the full list for yourself, and find out more about the Nail Station, too!
I absolutely adore the Rada Pro Nail Station I received for review, and I know you gals will love it too…  And now you have a chance!  Rada Pro was lovely enough to donate a Nail Station to Fashionable Gals for a Cure!  Look for Prize #18, which is a total pampering pack…  It also includes a Zoya Utopia Nail Polish Sampler, Zoya Color Lock System, Kathy Ireland J du J body butter, Calypso S.H.O.P. tote, and Calypso Gold Tia Necklace & Earring set.  It's a prize worth $144.93, but you can score an entry for each $1 donation you make to help fund Breast Cancer Research!