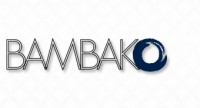 "Headband design came as happenstance for Abigail Ricarte. Abigail's story begins on a night as she was preparing to attend a friend's birthday party and realized that she was missing one vital piece – a pretty headband to disguise her hair, as it was in an awkward "growing out" phase. Not being able to find a suitable accessory that complemented her style, she took a detour to the craft store to buy supplies to make her own headband. Eager and excited, she rushed home and ended up making a dozen one-of-a-kind headbands. She never made it to the party."
What a sweet story!  You can read more about the creation of Bambako here.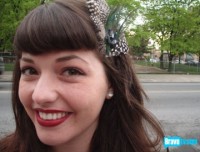 Ricarte's creations remind me of Kenley, from last season of Project Runway.  I always looked forward to seeing her kooky hair creations, even though I thought her personality was a bit of a bummer!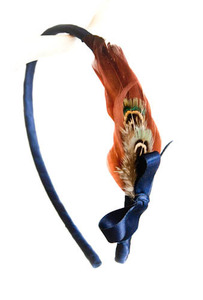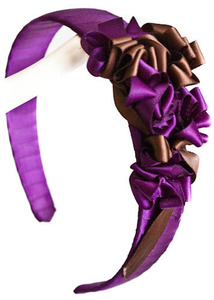 The Oh Hey (left) and Orchid Wave (right) are two of my faves; both feature colors that are seasonally appropriate and will add a punch to otherwise plain or boring outfits!  I'm often too tired to throw on anything but a t-shirt and jeans, which isn't particularly fashion-forward; those lazy mornings are a perfect time for Bambako!  Of course, these gorgeous accessories will also totally revamp your evening look, and add flair to even the most hip outfits!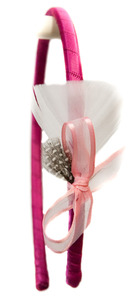 Bambako also features a "100% for the Cure" collection of beautiful Pink headbands, which benefit Susan G. Komen.  Ricarte has generously donated two of these headbands, the Maria (pictured above) and Linda styles, to Fashionable Gals for a Cure!  Both are included in Prize #1, which also includes a Laughing Vixen glass pendant, Scruples hair spray, and Beautifix Kit.  The total value is $147.49- how fashionable!