Ladies, if you only shop one boutique this year- it should totally be the Oscar Blandi Boutique at Rue La La.  I freakin' LOVE Oscar Blandi's hair products- his in-shower treatments are absolute miracles.  No matter how much I dry out or otherwise damage my hair, Oscar Blandi's products bring the life right back into it.  Now that's love.  And…  The most expensive item in the boutique is $39.  And by item, I mean awesome SET of products.  The boutique is full of beautiful duos & trios (and a few bigger groups) of items that range from $25-$39, for mostly full size product.  Um, score?  Hell yeah!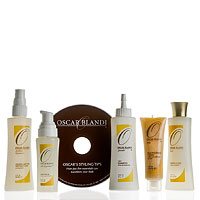 Set contains:Â  Proteine di Jasmine Protein Mist (2-fluid ounces), Luce Sheer Gloss (2-fluid ounces), Olio di Jasmine Hair Serum (0.5-fluid ounces), Seta Silk Polishing Cream (1-fluid ounce), Pronto Dry Shampoo (1-ounce) and bonus Oscar's Tips DVD.
$25
And there's so much more…
If you're not a member of Rue La La, signing up is simple.  Just go to the homepage, click on the "a member invited me" section, and then enter my email address- Laney@TheFashionableGal.com.  Viola!  You're invited…  And you're in!
Happy shopping, ladies!