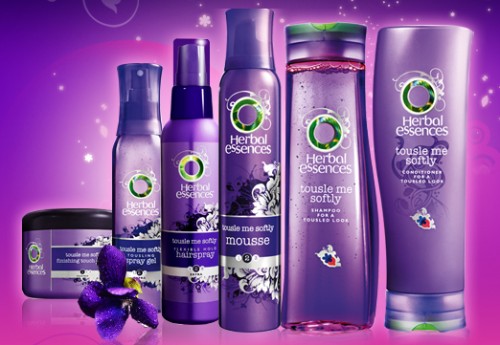 "Embrace your softer side with perfectly imperfect hair. Llayer our products together for soft tousles that beg to be touched – not that they need to beg. And hey, since we work well together to create one luscious look, it's almost mistake-proof!"
~Conditioner for a Tousled Look
Straight, plain-Jane hair is so out. It's time to tousle things up and rock that sexy, messy bed-head look you've always wanted to try but never dared to. Whether your hair is short or long, curly or straight, there's something for everyone. The shampoo & conditioner are wonderful (they're infused with violet and pomegranate)- they work together to clean, fight frizz, banish tangles, and prime hair for styling.
And the styling products? I'm not normally a fan of mousse, but I love scrunching the Easily Touching formulation through my hair… I get style without the crunch! The hairspray provides the perfect amount of hold, and the finishing cream is just the icing on the cake.
For me, though, the real standout is the Tousling Spray Gel. I've been reading a lot of hairstyle guides in magazines lately, and seeing lots of recommendations for spray gel formulas. I love this particular version, as it styles my hair right out of the shower. After shampooing and conditioning with the Tousle products, I towel dry my hair, then spray it thoroughly with the Spray Gel. I then let it sit for a few minutes when I do my makeup, run my fingers through my hair a few times, scrunch it up a bit… And I'm done! How easy is that! My hair dries with body and texture… Fabulous!
Tousle Me Softly products are available wherever you normally purchase Herbal Essences products- drugstores, supermarkets, and other mass retailers!