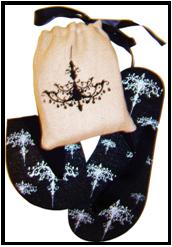 Okay, so how has no one thought of this before?  Easily portable, easily storable, totally adorable…  Shoes?
Yep!  Floc Designs has one of those ideas that is totally making me smack my forehead and ask "Why didn't I think of this?"  Dubbed "pocketflops," the shoes are essentially flip flops that conveniently fold in half and slip into an adorable, matching storage pouch.  This makes them totally ideal for travel- all year 'round!
~If you don't like driving in flip flops, these are easy to store for when you reach your destination.
~If you have to wear dressy shoes to work, you can store these in a drawer and slip 'em on under your desk.
~If you're wearing uncomfortable shoes to a long event or dinner, you can covertly sneak these on under the table.
~If you're going on a trip, these are super easy to pack & bring along.
~If you're wearing beat up flip flops but might want to slip into a classier pair later, these are perfect!
Pocketflops are made of 95% recycled tire rubber, and their carrying pouches are made from recycled & organic material.  So, not only are they super cute and convenient, but they're eco-friendly as well!  Each pair is $20, and there are six styles currently available, but some have alternate color choices, so there are plenty of options!  Each style is available in Small, Medium, and Large.
I picked the "Chandiflops," which are the pair pictured at the top.  I think the style is really simple and elegant!