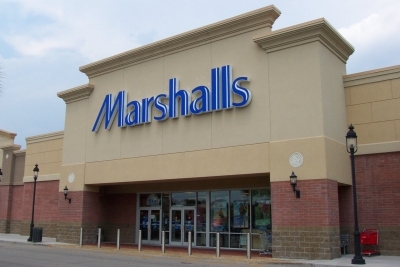 Last week, I introduced you gals to off-price retail through my post about the supreme awesomeness of TJ Maxx. I loved reading all your stories about why you love TJ Maxx, and what great bargains you've scored there!
As I shared, TJ Maxx has always been a favorite shopping location of mine- but I'll be honest: Marshalls has never been a favorite of mine. This is because the only Marshalls location back in Vermont was a perpetual mess… It didn't make shopping very much fun. However, after attending the blogger event at TJX (the TJ Maxx & Marshalls headquarters) and hearing about all the neat changes that have been made to Marshalls over the past year, I was totally excited to shop there.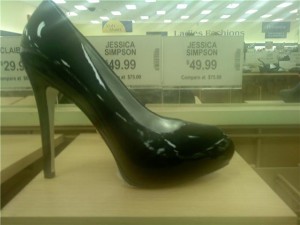 Thankfully, there was one only about five minutes from my apartment! And, while it was a tad messy (after what I witnessed, I think this has more to do with the customers), I certainly enjoyed the shopping experience! Here's a reminder about some of the differences between TJ Maxx & Marshalls:
~TJ Maxx only has Women's Shoes, while Marshalls has footwear for the whole family, including "Shoe Megashops" in some Marshalls locations
~Marshalls has smaller beauty & food departments
~Marshalls- in my opinion at least- has more Teen & Young Adult merchandise… Marshalls actually has an area called "The Cube," which is a veritable mecca of teen fashion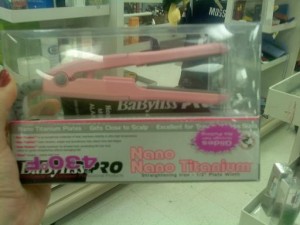 When I was in Marshalls, the store was being restocked- and there was a HUGE, super annoying family browsing everywhere I was trying to be… So, although I got some great photos to share with you, I didn't get as many fashion photos as I would have liked. However, here are some of the ways that Marshalls is incorporating top seasonal trends into their fall lineup:
Xoxo, Preppy & Plaid
"Spotted, the looks from everyone's favorite Upper East Siders roaming the halls of high schools everywhere. On the girls- skinny jeans, paired with ruffled tunics or menswear-inspired button down shirts under blazers. Accessories include beautiful brooches worn on the lapel and ballet flats or detailed pumps. The boys have been spotted wearing madras plaid shorts, striped sweaters over collared shirts, button downs with vests and driving moccasins, and even hats as they dress to impress."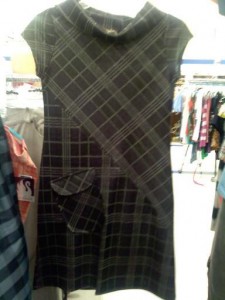 Idol-ize Your Wardrobe
"Rockers can rejoice- it's easier than ever to show off personal style without selling out. Novelty leggings are key this season- cutouts, rips and tears, lace and thermal styles. Booties- heels, flats, and wedges- complete the look. Rocker chicks can layer leggings under fitted dresses or flowy skirts worn with a motorcycle jacket or plaid button down and an over-sized or studded belt. For guys, the essential element in every rocker dude's wardrobe is the hoodie. Find a vintage or distressed hooded sweatshirt and layer it over graphic tees or collared shirts. Pair the look with denim and let the inner rockstar come out."
Art Conn, a stylist on American Idol, helped design this high style line just for Marshalls!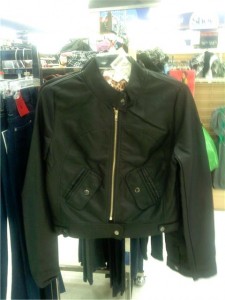 Gorgeous Grunge
"Let style sine from dusk 'til dawn with attire inspired by everyone's favorite vampires. To get the perfect "grunge" look, girls and guys can actually wear modified versions of the same trends- torn or repaired denim skirts for girls and pants for boys, flannel plaid button downs for boys and plaid tunics for girls. No grunge look is complete without accessories. Hats such as fashion skull caps make a great accessory, as do scarves and funky sneakers or chunky heeled shoes."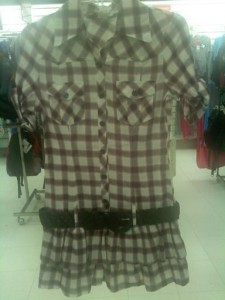 Clothes weren't the only super-cool back to school finds I made- whether you're in high school & living at home or heading off to live in a dorm for college, Marshalls had a really great selection of furniture, accessories, decorations, and even school supplies! I didn't go as picture crazy as I wanted to because (as you can tell from the previous pics) something funny was going on with the lighting. Here are a few items that caught my eye, though: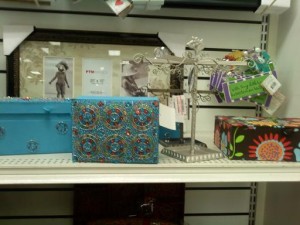 Picture frames, jewelry hangers, decorative boxes to hide your personal items…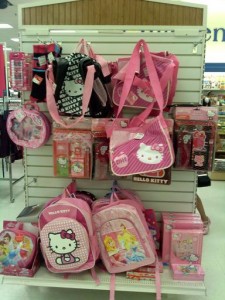 Everyone needs a Hello Kitty Messenger Bag! There are even notebooks to match!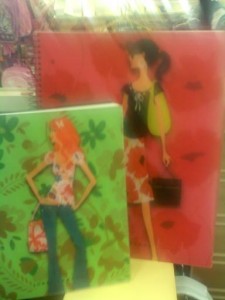 And speaking of totally adorable notebooks, how cute are those?! Sorry for the blur!
As much fun as I had looking at the "serious" items, I found some even more enjoyable ones in unexpected places!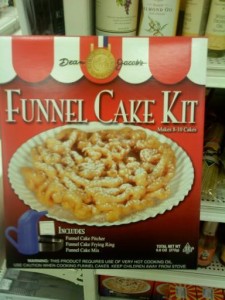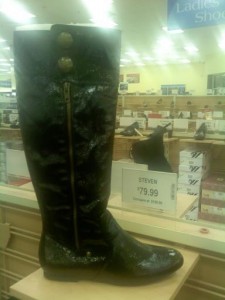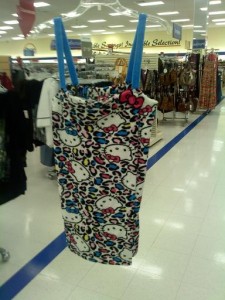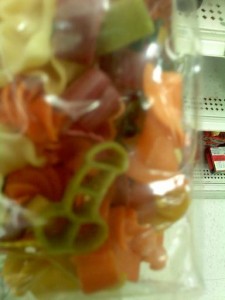 Funnel Cake Kit: $6.99, Awesome Boots: $79.99, HK Towel Dress: $12.99, "Special Pasta" Mix: Priceless (AKA $5.99)
What I got: A pair of patterned Converse for my boyfriend for $15.00 (the tag inside from another store had them marked for $50!), a leather jacket for the boyfriend (the "compare at" price was $70), a beautiful black sequined top for myself for $16.99 (I don't remember the "compare at")… And some snacks. I'm totally addicted to the Gourmet Food Section of TJ Maxx & Marshalls– I got some crackers, peanut brittle, licorice, and a really delicious sparkling juice!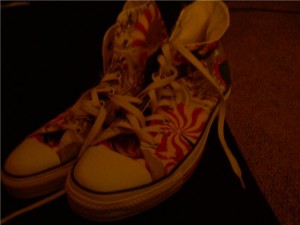 I had so much fun shopping at Marshalls! Now, it's your turn! The amazing people at TJX/Marshalls & Rocket XL are offering one lucky Fashionable Gal reader a $25 Gift Card to Marshalls to score some goodies of their own! This contest is open to US Residents only and will run until August 30, at midnight (EST Time). Good luck!
Mandatory Entry: Visit the Marshalls website and use the store locator (top right corner) to find the closest Marshalls to you, then come back and comment with the location.
Extra Entries (1 entry each):
~If you're a Marshalls shopper, tell me about a great shopping experience you've had there!
~Share an awesome bargain you've scored recently (or a fave that comes to mind).
~If you haven't shopped at Marshalls before, tell me why!
~Follow me @fashionablegal on Twitter!
~Tweet, using the following text (can be done 2x daily for 2 extra entries!):
"RT: Win a $25 GC to Marshalls & shop the latest fashions for a fraction of the cost! @fashionablegal http://tinyurl.com/naq4aa Ends 8/30!"
~Subscribe to my newsletter!
~Blog about this giveaway & leave the link in your comments (3 extra entries)!