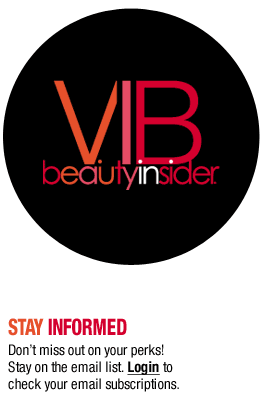 Woohoo!  I got the Sephora Member upgrade this past week to VIB (Very Important Beauty Insider), a level up from the regular VIP status.  I'd like to say it was because I'm just that awesome, but really, it's because I spent over $350 at Sephora in the last year.  *Gulp*
If you didn't get the upgrade yet, all you have to do is hit the $350 mark (any purchases since January – if you were already a VIP- count) and you'll get the upgrade for this year AND next year!
There are tons of perks, including a 10% off coupon that is good either online or in-store with no minimum or disqualification for sale products.  I used mine today…  Before I share what I got, though, here are some other benefits of being a VIB!
~Invitations to exclusive Sephora Events & their Holiday Party
~A holiday gift card (more you spend, more you get back!)
~Exclusive monthly promotions & freebies
~Access to a private VIB hotline where you can reach the pros
If you're not already a VIP, signing up is free and you get points for every dollar you spend- which can then be redeemed for free trial size products!  There are other perks, too- like a free gift on your birthday!  I picked mine up today.
Okay, so here's what I bought with my 10% off coupon!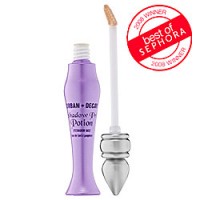 Urban Decay Primer Potion, of course.  I'm so excited that the wand was reformatted (notice the new curve?) so that I won't have to cut my bottle open and scoop out all the primer-goodness at the end of every bottle!
If you haven't tried this primer–although I feel like everyone under the sun has by now–it's phenomenal. Like, you can pretty much shower with your makeup on and still be fine.  Even in this heat and humidity, UDPP still keeps my shadow where it should be!
The Original (dries neutral) and Sin (champagne hue) are $17.  If you order online- and in some stores possibly, but not the one I went to- you can get a larger bottle of the Original Formula for $22.  Totally worth it!!!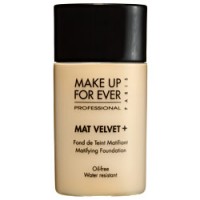 I've been dying to try this foundation- Make Up For Ever's Mat Velvet + Matifying Foundation.  I can NEVER find foundation that's pale enough for me, but this one actually looked like it would do the trick…  I'm hoping that in outdoor lighting it will still look great or else I'm going to have to bring it back.  I think it's a really great formulation for the summer because it's formulated to control oil and shine.  Since it's a tiny bit heavy, I'm going to mix it with a little bit of tinted moisturizer for more customizable control.  I'll post about it again once I've actually used it a few times!
There are 16 shades available (I'll be sporting the very lightest, Alabaster) and each bottle retails for $34.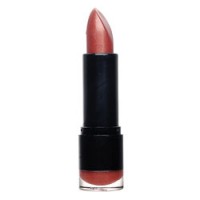 Since they were on sale for $5, I also picked up one of the
Sephora Brand Metallic Lipsticks in I have no idea what color.  Well, I mean, I know it's a creamy, sexy dark red with a rich sheen- but there's no color name anywhere on the tube or the packaging.  The only color available online is the one pictured, so you're going to have to head to a store if you want in on this deal.  Sephora Brand lip liners are $5, too!
I know it's not much of a summer color, but I've been craving a new red to rock…
Last, I got the smaller version of the new frizz Living Proof Straight Making Styling Spray.  I actually meant to get the Wave Shaping, Curl Defining version- but I came home with this one instead.  I'm still excited to try it; I mean, come on- hair spray developed by scientists at MIT?  It better be good!
Both of the sprays are recommended for fine-medium hair, but since mine's super short, I figured a spray would do more than a cream that might weigh it down.  I'm excited to try it and will report back on this one, too!  The trial size (1.7 oz) bottles are only $14, versus the full size ones, which are $24.  Still a lot for a hair product, but once again- scientists!  MIT!  There was actually a really cute display in the front of the store with before and after photos of all the employees and their choice frizz products.
As mentioned, I also picked up my birthday gift!  It's an adorable trio of lip glosses in Precious Pink, Rosy Glow, and Bronzed Beauty.  If the box didn't say "Happy Birthday" all over it, it would be a great little gift to save for a Christmas present for a more casual friend- however, I'll probably just take the glosses out and use them as stocking stuffers!
Oh, and now my Beauty Bank is up in the 200's!  I'm excited to see what the next big sample will be, as I'm not going to drop 500 hard earned points (once I have 'em) on that Sephora palette.  Noooo way!
Okay, so who else got the upgrade?  Have you used your coupon yet- and if so, on what?  Or what are you planning on getting?  Non-Sephora members, tell me about your latest hauls, too!
PS- In case you're wondering, I was at the Sephora in the Providence Place Mall in Rhode Island.