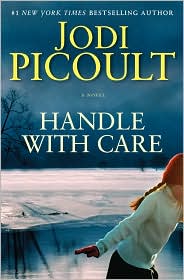 Things break all the time.
Day breaks, waves break, voices break.
Promises break.
Hearts break.

"Every expectant parent will tell you that they don't want a perfect baby, just a healthy one. Charlotte and Sean O'Keefe would have asked for a healthy baby, too, if they'd been given the choice. Instead, their lives are made up of sleepless nights, mounting bills, the pitying stares of "luckier" parents, and maybe worst of all, the what-ifs. What if their child had been born healthy? But it's all worth it because Willow is, well, funny as it seems, perfect. She's smart as a whip, on her way to being as pretty as her mother, kind, brave, and for a five-year-old an unexpectedly deep source of wisdom. Willow is Willow, in sickness and in health.
Everything changes, though, after a series of events forces Charlotte and her husband to confront the most serious what-ifs of all. What if Charlotte should have known earlier of Willow's illness? What if things could have been different? What if their beloved Willow had never been born? To do Willow justice, Charlotte must ask herself these questions and one more. What constitutes a valuable life?
Emotionally riveting and profoundly moving, Handle with Care brings us into the heart of a family bound by an incredible burden, a desperate will to keep their ties from breaking, and, ultimately, a powerful capacity for love. Written with the grace and wisdom she's become famous for, beloved #1 New York Times bestselling author Jodi Picoult offers us an unforgettable novel about the fragility of life and the lengths we will go to protect it."
Jodi Picoult is one of my absolute favorite authors. I only discovered her books in February, thanks to my boyfriend's mom and sister. I've only read a few of the novels in her vast collection- I'm working on reading all of them- yet this is already my pick of the bunch. I've learned that starting a Picoult novel before bed is a bad idea- I won't go to sleep until it's done! And since Picoult's books are several hundred pages each (this novel was almost 500), you know it's going to be a few hours : P
I'm an avid reader and have read hundreds, possibly thousands, of books since I first learned to read. I don't think I've ever felt as emotionally invested in a book as when I'm reading a Picoult novel; her literary skill surpasses that of the majority of her peers by miles. The delicacy of each story and the intrigue created by each character results in each book being a fascinating read.
In Handle With Care, Picoult writes from the perspective of several different family members, their close friends, and others that they come in contact with. The alternating perspectives allow readers to approach the legal and moral issues at hand from different angles with different opinions. I really enjoyed getting to feel like I was actually experiencing the different opinions, rather than just being talked at or preached to.
I also really enjoys Picoult's obvious knowledge of the law and courtrooms; the accuracy and straightforwardness with which she discusses legal proceedings makes the story easy to comprehend. The story's mix of family struggles and legal proceedings means that no matter what type of story you typically enjoy, Handle With Care will provide you with something you'll enjoy!
Atria Publishing is very generously offering TWO of my lucky readers a chance to win a copy of Handle With Care. I'd suggest enjoying the gorgeous warm weather and taking it to the beach- just make sure you apply sunscreen first because you might get so wrapped up in your reading that you won't notice the burn!
This contest is open from time of posting until midnight EST on July 14th and winners will be announced soon after. PLEASE DO NOT LEAVE A COMMENT on this post in order to enter- it WILL NOT COUNT! People have not been following the rules thus far and their comments will not be counted!!! I'm not trying to be a pain; I just don't want any comments to get lost in the spam filter!
***ENTRIES MUST BE SUBMITTED IN AN EMAIL TO THEFASHIONABLEGAL@HOTMAIL.COM!!!***
The subject line must read "Handle With Care Giveaway" and the body of the email must contain your entry (ex. question answer, link to tweet, tell me you're a subscriber, etc).
Mandatory Entry: What is your favorite book?
Extra Entries:
Follow me on Twitter @fashionablegal ~1 Entry
Subscribe via email (box in sidebar) ~1 Entry
Tweet this Giveaway (copy and paste the following text w/o quotation marks) ~1 Entries per Tweet (max 2/day)
"Please RT:  Birthday Bash Giveaway 2 of 15 @fashionablegal; win the newest Jodi Picoult Novel! 2 winners!  http://tinyurl.com/lgoyvh"
Enter any other birthday bash giveaway (you can come back and do this when others are announced) ~1 Entry Each
Blog about this giveaway ~3 Entries
Sign up for Swagbucks using the banner below ~3 Entries