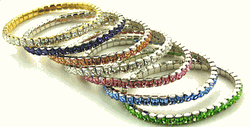 Dream of dripping with gems? Fantasize about being doused in diamonds?
Not made of cash?
Yeah, I thought so. Me too!
Fortunately, I've got the answer! Sparkle Plenty is an e-boutique that rocks the bling hardcore, and makes it totally affordable for you to flaunt the head-to-toe twinkle!
My picks for panache were the Emerald Cut Crystal Bracelet (above) for $24, and the Crystal Tennis Bracelet (below) for $14.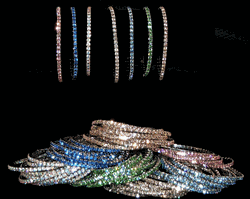 Both styles are genuine Swarovski crystal, so you know they look fine. The stretch also makes them really comfortable and helps them stay in place; I hate when my bracelets start migrating up my arm or get tangled in my sleeves! Especially when you're wearing bracelets as gorgeous as these, you don't want them to get lost and miss the opportunity to look like a million bucks!
Mine are peridot and light pink, but there are so many color options that you can find your favorite color, and pick the right shade for any best friends you want to share the wealth with! There's a variety of clear, pinks, purples, blues, greens, and even more to match all your favorite outfits; the ones you wear over and over again and should totally revitalize with a few of these babies!
My favorite part is of these bracelets is how very versatile they are. I love wearing them with my evening-wear, but they also rock with my casual day styles. In fact, I've been wearing the green one with my favorite green flip-flops, jeans, and a white t-shirt. I'm still totally comfortable, but the crystals add a touch of sophistication that really takes it up a notch! And if you're looking to rock more than a bracelet, here are some of my other favorites. You can find them all here.
If you're looking for more than jewelry, Sparkle Plenty also offers an oh-so-sexy selection of rhinestone tee's and tanks: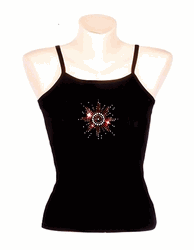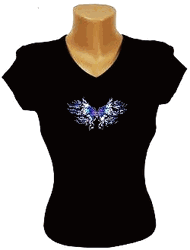 The
Tribal Sun
($40) and
Tribal Butterfly
($48) are two of my faves. There's a huge selection in their shop that you can
check out
AND I have a treat for you- the awesome people at Sparkle Plenty are offering my readers $10 off any rhinestone tee or tank with
code FASHION10
(good until 6/15/09)! How cool is that?